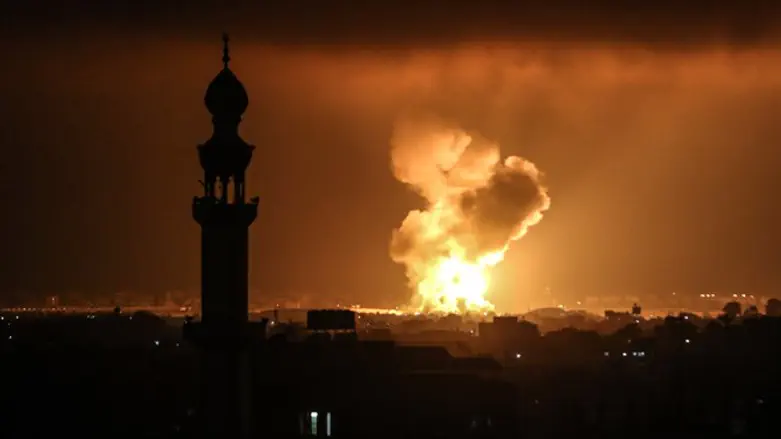 Israeli airstrikes in Gaza
Abed Rahim Khatib/Flash90
Roughly 160 terrorists in the Hamas-ruled Gaza Strip have been killed thus far in Israel's ongoing counter-terror operation, dubbed Guardian of the Walls, according to an IDF spokesperson Tuesday.
The army reported Tuesday morning that most of the 160 terrorists killed since the fighting began last Monday are from the Hamas terror organization. Some 120 Hamas terrorists have been eliminated, compared to roughly 40 terrorists from the Islamic Jihad organization.
The IDF also said that it destroyed 9.4 miles (15 kilometers) of terror tunnels built by Hamas in its massive "metro" tunnel network.
"Overnight, we destroyed about 15 kilometers of the fourth section of the Hamas 'metro', though we still have a great deal of work left in the tunnels in Khan Yunis and Rafiah."
Sixty Israel Air Force aircraft pummeled terrorist targets in the southern Gaza Strip overnight, destroying 65 rocket launchers in Khan Yunis. The launchers, an IDF spokesperson said, were capable of launching between six to nine rockets at a time.
Israel's military also said that the IDF Chief of Staff Aviv Kochavi spoke twice last week with his American counterpart about the ongoing conflict.
A total of ten people have been killed in Israel since last Monday, with over 300 injured in rocket attacks.
Gaza's health authority has reported 212 people killed, with 1,400 injured.