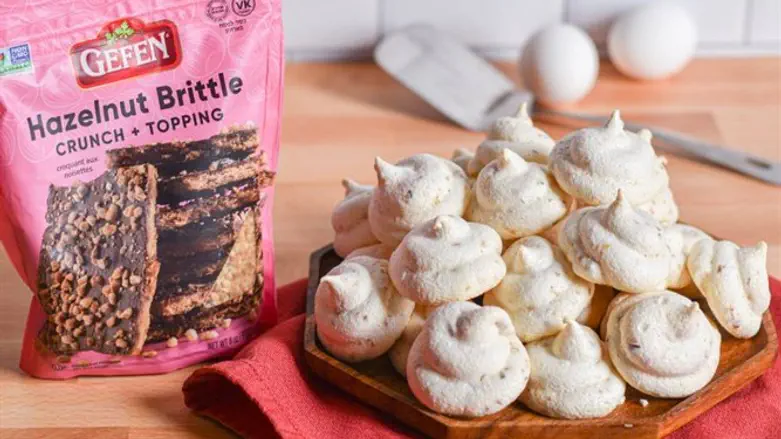 Hazelnut Meringues
Tamar Teitelbaum / Kosher.com
Ingredients
3 egg whites
1/2 teaspoon cream of tartar
1/2 teaspoon Gefen Vanilla Extract
3/4 cup sugar
1/2 cup Gefen Hazelnut Brittle
Prepare the Meringue Mixture
Preheat oven to 225 degrees Fahrenheit. Line two baking sheets with Gefen Parchment Paper or silicone baking mats. Do not grease.
Beat egg whites and cream of tartar on high until stiff peaks form.
Add vanilla and sugar, pouring it down the side of the bowl and not directly on the egg whites (so as not to deflate them). Beat on medium-high until well combined.
Gently fold in hazelnut brittle.
Bake the Meringues
Add meringue mixture to a piping bag with a 2A tip. Alternatively, add meringue to a disposable plastic bag and cut off a corner (leaving an opening of about three-eighths of an inch). See tip, below.
With a swirling motion, pipe meringue onto the prepared baking sheets. Each should be about one and a half inches in diameter.
Bake for one hour. Do not open the oven at any point.
Turn off the oven and leave meringues inside for one more hour. Remove and enjoy!
Note: Meringues can be served immediately or stored in an air-tight container at room temperature. They will last for a week as long as they stay dry.
Tip: A piping bag and 2A tip creates meringues with the nicest presentation, though a disposable plastic bag with one corner cut off can substitute in a pinch.