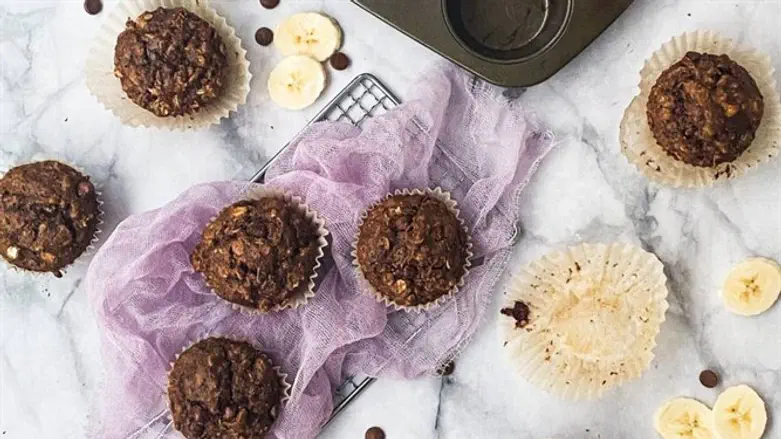 Healthy Chocolate Banana Muffins
Erin Grunstein / Kosher.com
Ingredients:
3 overripe bananas, mashed
  
2 eggs
  
1/3 cup neutral oil (such as grapeseed or canola)
  
1/2 cup Gefen Maple Syrup or honey
  
1 teaspoon vanilla extract
  
1/4 cup Greek yogurt or milk (milk substitutes also work)
  
1 cup whole wheat flour
  
1 cup oats
  
2 tablespoons Gefen Cocoa Powder
  
1 teaspoon baking powder
  
1/2 teaspoon baking soda
  
2 teaspoons Gefen Cinnamon
  
1/2 teaspoon salt
  
1 cup chocolate chips
Prepare the Muffins
Preheat oven to 425 degrees Fahrenheit. Line a muffin pan with liners (I use parchment liners) and set aside.
In a bowl, mix together bananas, eggs, oil, maple syrup/honey, vanilla, and Greek yogurt/milk.
Add flour, oats, cocoa powder, baking powder, baking soda, cinnamon, and salt. Mix until just combined. Fold in chocolate chips.
Spoon about one-quarter cup of batter into each muffin liner. Bake at 425 degrees for eight minutes. Reduce temperature to 375 degrees and bake for about eight more minutes, or until a toothpick inserted in the center comes out clean.