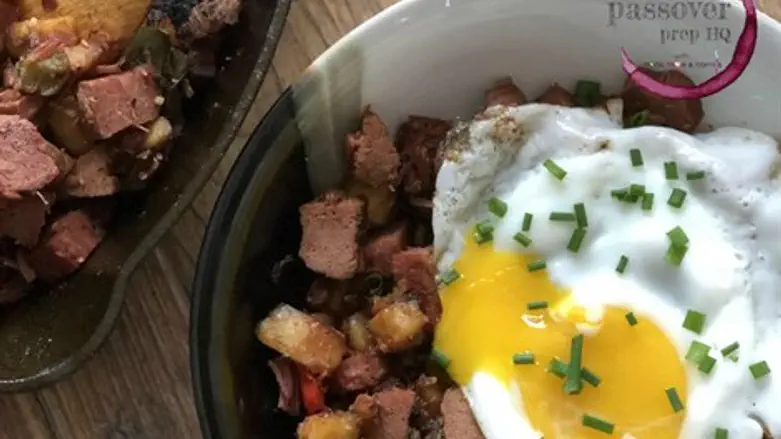 Corned Beef Hash
Kosher.com
Our house is big on repurposing leftovers, and this is my husband's favorite "leftover" dish of all time. In cleaning out my freezer for Pesach, I found some cooked corned beef that was just waiting to be used in this hash! But bonus: this is also a perfectly kosher for Pesach recipe! So basically, it's a 2 for 1 deal. My go to pickled corned beef recipe is off the Gourmet Glatt package.  Cover corned beef with 1 cup brown sugar and 3 Tbsp balsamic vinegar.  Pour 1 cup water into the pan and bake at 400 degrees for 3 hours.  Cool completely before slicing, and reheat in pan juices.  Use the leftovers for this awesome hash! You can also feel free to substitute the corned beef for brisket, roast, even chicken…whatever protein you have in your fridge! And swap out or add in any other veggies you're trying to use up. Zucchini, brussels sprouts or sweet potato would also be delicious! From Kosher.com
Main ingredients
3 tablespoons Gefen Olive Oil
2 large Yukon gold potatoes, cut into 1-inch pieces
1 small onion, diced
1/2 red bell pepper, diced
1/2 green bell pepper, diced
4 cloves garlic, minced or 4 cubes Gefen Frozen Garlic
1 and 1/2 teaspoons salt
1 teaspoon paprika
cracked black pepper, to taste
4 cups cooked corned beef (not deli corned beef), cut into 1/2 inch pieces, plus 2 tablespoons pan juices
4 eggs, for serving (optional)
chopped fresh chives, for serving
Prepare the Corned Beef Hash
Heat oil in a large skillet set over medium heat.
Add potatoes and cook, stirring occasionally, until lightly browned on all sides and cooked most of the way through, about 6-7 minutes.
Add onion and bell peppers, and cook until softened and slightly browned, an additional 4-5 minutes.
Add garlic and cook until fragrant, 1 more minute. Season with salt, paprika and pepper to taste.
Add corned beef and 1-2 tablespoons of pan juices to heat through. Taste for seasoning and add additional salt & pepper if necessary.
Spread mixture evenly over the bottom of the pan and increase heat, allowing the veggies and corned beef to crisp up slightly and start to caramelize.
Using a spatula, flip over the hash in sections to crisp the other side if desired.
To serve, top with a poached or sunny side up egg, and garnish with fresh chives.