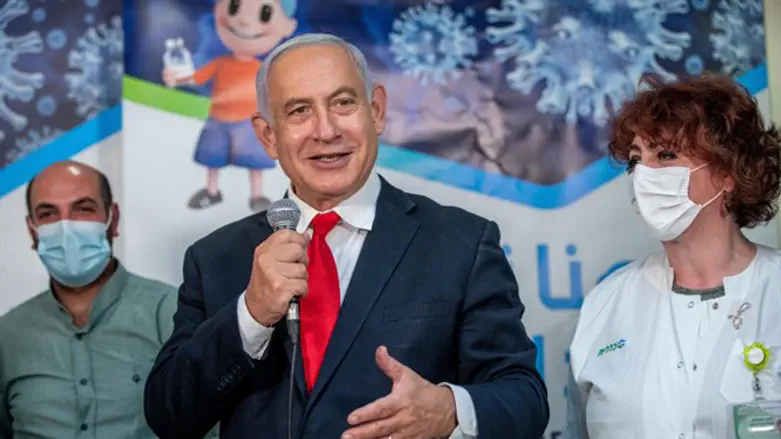 PM Binyamin Netanyahu
Yonatan Sindel/Flash90
We can grumble, complain, stamp our feet, and express frustration at Gideon Sa'ar's (New Hope) stubborn refusal to join a government led by Prime Minister Netanyahu and stabilize Israel's political system, despite the fact that up until two-and-a-half days ago he and some of his party members staunchly protected him.
We can get annoyed and shift even more uncomfortably in light of the fact that over half of the Israeli nation (at least, that's what it seems to be from the results of the latest elections) sees Binyamin Netanyahu as a problem that is not solvable so long as he is in his seat.
But this is the reality today, and we need to learn to live with it, to get used to it. It doesn't matter who President Reuven Rivlin chooses, in two days from now, to form a coalition: the political jam will remain as long as Binyamin Netanyahu stands at the head of the Likud's arrow, as the only candidate for prime minister.
And you know what? Even if he manages to accomplish the unbelievable, to locate two deserters from the opposing bloc and form a government together with Naftali Bennett (Yamina), a 61-MK government is the direct result of the ongoing political chaos which has characterized Israel over the past two and a half years.
It's time to place everything on the table and say in a loud, clear, voice: The only path to forming a nationalist government passes through Netanyahu's resignation from the position of Prime Minister.
Does Netanyahu need to disappear from public view? Absolutely not. Netanyahu is a leader with many merits, who can still contribute much to the State of Israel and the People of Israel. The criminal cases against him range from minor issues to idle chatter. When he says that the Prosecutor's Office has chosen to be harsh with him due to motives that are not necessarily professional - I tend to believe him.
Therefore, it is important that his voice continue to be heard. But from here on in - not from the Knesset. Not from the position of prime minister. Even if he is right, even if his claims that he is being treated unjustly are true, forcing the matter comes at the expense of all of Israel's citizens, who have not had a stable leadership for two and a half years.
For this, Israel's political echelon needs to gather together and unite in order to elect Netanyahu as the next President of Israel. The presidential elections are secret, but lacking an alternative candidate opposing him, and with the other side understanding that this is their certificate that Netanyahu is leaving the political landscape, he will receive the vast majority of the votes from the Knesset's 120 MKs.
If it is possible legally, his placement as the President will provide him with immunity and absolve him, at least for now, of the criminal cases against him. Maybe it will even lead to their complete cancellation, in the form of a pardon, which will be seen as a unique "plea bargain" for Suspect Number 1.
As part of his position as President of Israel, Netanyahu will be able to serve as a more powerful "Foreign Minister," representing Israel in international forums and doing great and secret things for the nation of Israel, but he will leave the political sphere and allow the political jam, which began over two years ago and for which no end is in sight, to be resolved.
It can be otherwise as well. It's definitely possible to continue forcing the issue, and allowing the entire political system to drive itself insane.
But at the end of the process, after he has brought all politicians from the Right and from the Left to the edge, after they broke all of their promises to their voters, other than the promise not to sit with him in a government, Netanyahu may find himself losing both worlds, dividing his time between warming the clean bench of the opposition and sitting for long periods on the suspects' benches in the courtroom of the Jerusalem District Court.
Binyamin Netanyahu, it's time to let go. For us, and for you.
Uzi Baruch, an experienced journalist, is Chief Executive Officer of Arutz Sheva and Editor-in-Chief of Arutz Sheva's English site. Following his service in the IAF, Uzi joined then-radio station Arutz Sheva, initially as a lower-ranking journalist and then as their morning manager. He then served as head of the Lifshitz College's school of communications before returning to Arutz Sheva to serve as its CEO and Editor-in-Chief in 2009.