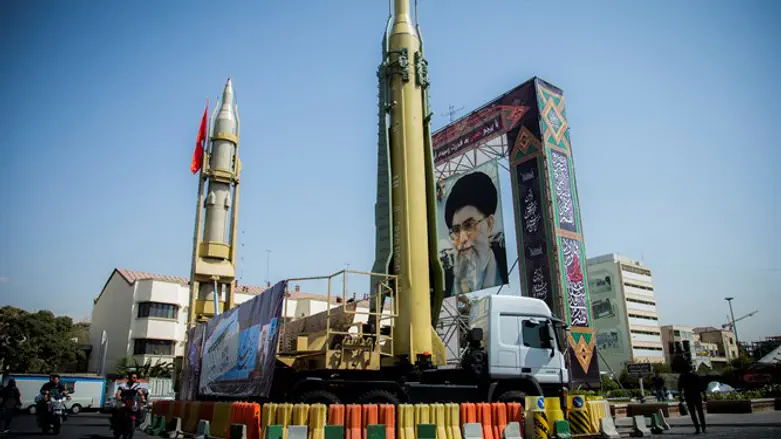 Iranian missile display in Tehran
Reuters
General Hossein Salami, the top commander of Iran's Revolutionary Guard, said on Tuesday that his country does not need a nuclear deal with world powers and that the regime in Tehran is indifferent to US sanctions.
"We are indifferent to US sanctions and we definitely do not need the nuclear deal. We have chosen the path of sovereignty in order to make our country stronger," Salami said, in comments quoted by Israel Hayom.
"Sanctions have been imposed on us, but their impact on our economy is rapidly fading. Our country has become more independent in many areas and the enemy knows that the impact of its sanctions is diminishing daily," the Iranian general added.
Salami's comments come one day after it was reported that US President Joe Biden is planning to put forth a new proposal to jump-start talks with Iran.
The proposal, according to the Politico website, asks Iran to halt some of its nuclear activities, such as work on advanced centrifuges and the enrichment of uranium to 20 percent purity, in exchange for some relief from US economic sanctions.
Iran has gradually scaled back its compliance with the 2015 deal in response to former US President Donald Trump's withdrawal from the agreement in May of 2018.
Biden has expressed a desire to return to the deal but has stressed that Iran must resume compliance with it before any negotiations on a US return to the agreement.
The US recently accepted Europe's offer to mediate conversations with Iran regarding the 2015 nuclear deal.
Iran, however, rejected the proposal, claiming that the "time was not right" to hold such talks.