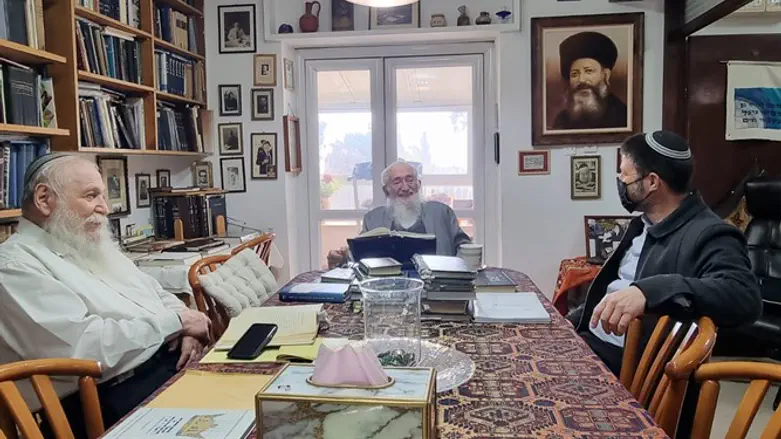 סמוטריץ' עם הרבנים. הבוקר
צילום: דוברות
The chairman of the Religious Zionist party, MK Bezalel Smotrich, toured Kiryat Arba this morning (Sunday). At the beginning of the tour, Smotrich joined Rabbi Chaim Druckman and Rabbi Eliezer Waldman for a study session.
For the past 53 years, Rabbi Druckman has been coming to Rabbi Waldman's house in Kiryat Arba every Sunday. The two are studying the writings of the late Rabbi Kook together.
The Rabbis emphasized the progress of religious Zionism from their days at the Merkaz Harav yeshiva, which then numbered a total of about 30 students, to the present day when religious Zionism is a large, flourishing, significant part of the world of Torah, education, settlement and practice. .
The rabbis congratulated MK Smotrich on making the Religious Zionist party and on its unity and stressed that it is a huge responsibility to continue the path of religious Zionism.
After studying with them, Smotrich said, "It is thrilling to join the study of two great scholars. It is amazing to see history in the making. These are the leaders of the religious Zionist rabbis, who left the seminary that led the religious Zionist revolution. This is the path of religious Zionism and we continue it in the political field as well."
Later in the tour, MK Smotrich spoke with the yeshiva students in Kiryat Arba.