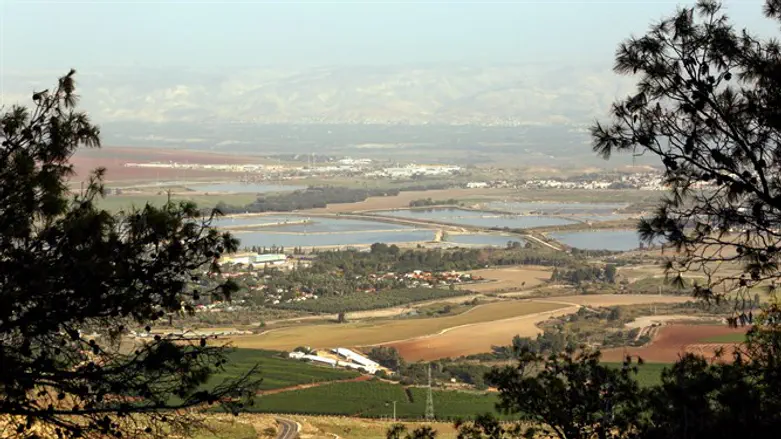 Jordan Valley
Flash 90
The Jewish National Fund (JNF) will launch a new policy aimed at purchasing land in Judea and Samaria to expand Jewish communities in the region, Axios reporter Barak Ravid reported Thursday.
According to the report, the policy will be approved on Sunday and could see hundreds of millions of dollars poured into Judea and Samaria for purpose of securing Jewish settlement.
The JNF, which was established in 1901 to help secure the purchase of land for Jews in Ottoman Palestine, has refrained from operating in Judea and Samaria since the territories were liberated in the 1967 Six-Day War, though it did operate in the territories indirectly through another organization. The draft resolution changing this policy was brought after a right-wing coalition ascended to the organization's leadership late last year.
Rabbi Pesach Lerner, the head of the Erez Yisrael faction in the World Zionist Organization, said that "for many years Israel's National Institutions: World Zionist Organization (WZO), Keren Kayemet LeYisrael ,(KKL/ JNF), Keren Hayesod (UJA), the Jewish Agency (Sochnut)) were controlled by center left organizations and delegates."
"However, the elections for the WZO Congress in March 2020 changed that.
"The results of the American election surprised everyone. With the unprecedented successful win of the newly formed haredi American Eretz Hakodesh faction, the makeup of the majority of the Congress,- the political right, consisting of centrist Orthodox and haredi Orthodox -is now the majority.
"The leadership of the WZO and KKL is now in the hands of right wing observant Jews. And the Eretz Hakodesh party is now part of the WZO, KKL and The Jewish Agency." Rabbi Lerner said.
Under the draft resolution, the JNF will only purchase privately owned land and only for the purpose of expanding existing communities. No land will be purchased for the purpose of building new communities.
The JNF will will work to strengthen communities through education, forestation and environmental protection projects.
Priority will be given for the purchase of land in places such as the Jordan Valley. In addition, the use of foreign funds will be subject to the laws of the donor's home country.
The JNF said in response to the report: "Throughout the years and till this very day, KKL-JNF has been operating in all parts of the land of Israel, including Judea and Samaria."

"The preliminary discussion, scheduled for Sunday will revolve around general principals of action, and will be based on a legal opinion that was requested and received during the previous management term.
At this stage, there is no intention of opening up a new area in Judea and Samaria.

"Regardless, KKL-JNF's policy remains that every contribution for every project in Israel is confirmed by and coordinated in advance with its donor, in accordance with the laws of the donor's country."