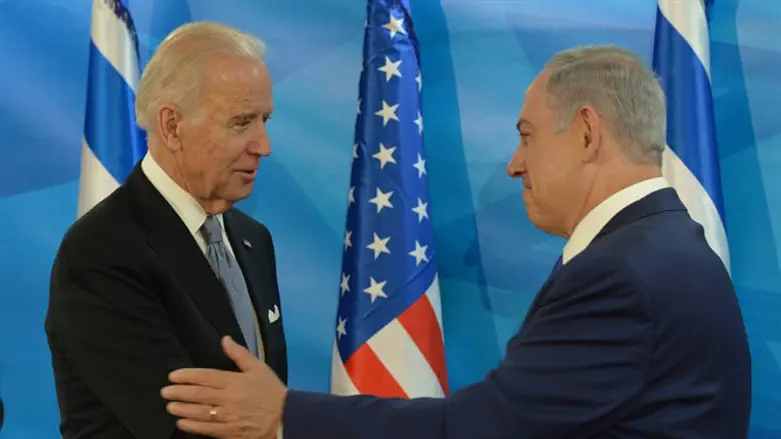 Netanyahu and Biden
Amos Ben Gershom, GPO
Prime Minister Binyamin Netanyahu on Sunday morning congratulated Joe Biden after US news outlets declared him the winner of the election.
"Congratulations Joe Biden and Kamala Harris. Joe, we've had a long & warm personal relationship for nearly 40 years, and I know you as a great friend of Israel. I look forward to working with both of you to further strengthen the special alliance between the U.S. and Israel," he tweeted.
Netanyahu also thanked Trump for his friendship and actions taken during his presidency.
"Thank you Donald Trump for the friendship you have shown the state of Israel and me personally, for recognizing Jerusalem and the Golan, for standing up to Iran, for the historic peace accords and for bringing the American-Israeli alliance to unprecedented heights."
Last night, opposition Chairman MK Yair Lapid rebuked Prime Minister Binyamin Netanyahu, Defense Minister Benny Gantz, and Foreign Minister Gabi Ashkenazi for maintaining silence hours after American media outlets announced Joe Biden the winner of the presidential election.
"The fact that Netanyahu, Gantz, and Ashkenazi have not yet congratulated the president-elect of the United States is shameful cowardice that harms the interests of the State of Israel.
"If the President of France, the German Chancellor, and the British Prime Minister can do it, so can you," Lapid tweeted.