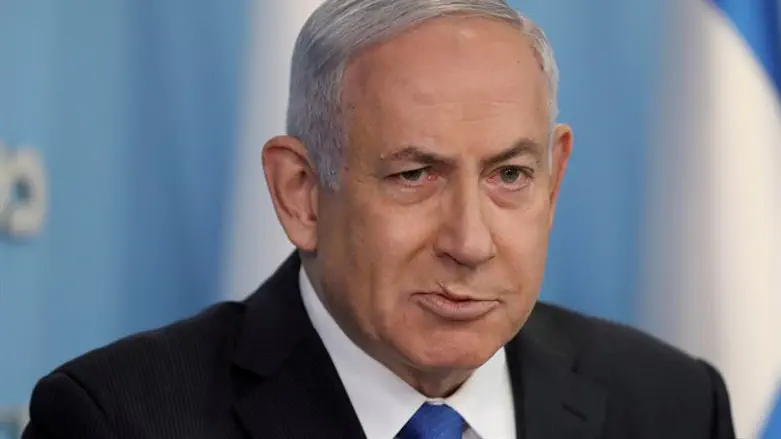 Netanyahu
Reuters
Prime Minister Binyamin Netanyahu tonight stated that the deal with Sudan "changes Israel's position in the Middle East."
Netanyahu said Israel is "now connected to the entire world community."
The Prime Minister revealed that Israel held secret talks with Sudan over previous years, and that these had turned into official government negotiations as the situation in the region underwent changes.
Netanyahu stated that an Israeli delegation would set off for Sudan in coming days to sign a treaty of understanding with the North African state.
Asked whether he was embarrassed by U.S. President Donald Trump's involving him in U.S. elections by asking his opinion of "Sleepy Joe" Biden, Netanyahu said: "I don't want to predict who will win the U.S. election, but I hope that the U.S. policy that led to these three agreements with the Arab countries will continue."
Netanyahu called on his political adversaries to "put aside differences" "because I promise you, there will be a time for it later."
He said the nation should come together, show mutual responsibility, and defeat the coronavirus crisis.
Addressing the nation's dwindling coronavirus infection rate, the Prime Minister said: "I won't allow some to violate directives while others follow through with them."
He said he would continue supporting private businesses trying to make their way through the crisis, while promising to fine restaurants that violated Health Ministry sanctions.
He said that after coronavirus restrictions had come into effect, Israel had seen a drastic fall-off in virus cases.
Netanyahu praised the nation-wide effort, pointing out Israel now found itself ahead of major European nations like Germany and Austria when it came to infection numbers.
The PM also promised to lift restrictions if the morbidity rate decreased.