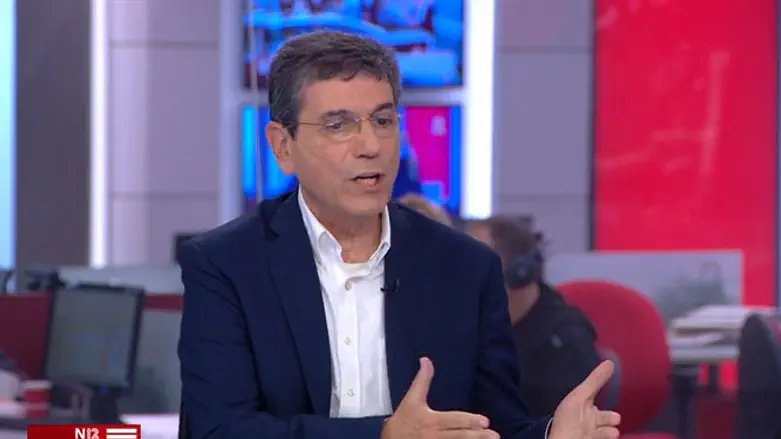 Prof. Gabi Barbash
Channel 12
With the Yamina party seeing a continued rise in recent polls, and assessments that the country will head to yet another round of elections by the end of 2021, this right-wing conglomeration of factions is already making plans on how to ensure the momentum is sustained, and one of the key methods is attracting prominent people to the party's list.
According to a report in Yisrael Hayom, Professor Gabi Barbash, a former director-general of the Health Ministry as well as former director of Ichilov hospital in Tel Aviv, is one of the most prominent "names" now being targeted by Yamina.
In recent discussions with his close advisers and colleagues, party leader Naftali Bennett mentioned a number of people he is interested in recruiting, and standing out among them is Professor Barbash. With his sterling medical credentials, he has become almost a household name in recent months, in part due to his new role as a commentator on Channel 12.
In an interview granted to Yisrael Hayom in advance of Rosh Hashanah, Bennett stressed his wish to make Yamina a more inclusive, "all-Israeli" party that is not associated with only one sector. In addition, given the ongoing situation of epidemic, he seeks to promote an image of a party that will effectively deal with the crisis, incorporating both medical experts and those who know how to manage the economic ramifications of the measures that need to be taken to contain the virus' spread.
However, Bennett is not merely seeking to add "big names" to his party's roster. Those who know him well attest to his desire to incorporate lesser-known figures who have seen success in hi-tech and the media, as well as people from communities outside the center of the country.
If the predictions are correct, we won't have to wait long to see if the results of his investment pay off.