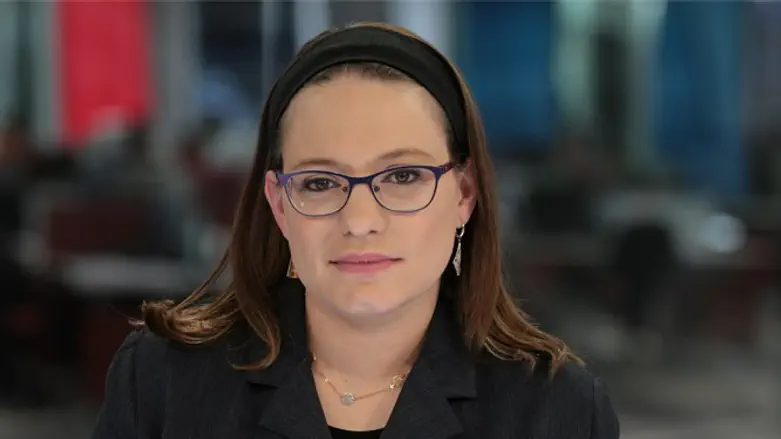 מצליחה להביא את הטוב מכל המגזרים. סיון רהב-מאיר
צילום: אייל בן יעיש
The photograph below of a large group of Jews praying in the middle of the day was not taken at Sacher Park in Jerusalem during Passover week but on the front lawn of the White House, in the course of celebrating the signing of historic peace agreements.
תפילת מנחה על מדשאות הבית הלבן
צילום: באדיבות המצלם
Many of the Jews who participated in the ceremony stopped and stood together for the Mincha (afternoon) prayer.
Even as history is being written, the Jewish pulse beats with obligation to the commandments. It reminds me of Yaakov Avinu, the Patriarch Jacob, who in the historic moment of greeting his son Joseph after 22 years of separation pauses to say the Shema Yisrael prayer at its proper time - and only afterwards embraces his son.
It seems to me that this photograph represents something else. Precisely because of the confidence in our Jewish identity were we able to reach this milestone, the peace agreements with the UAE and Bahrain. When we know who we are and demonstrate self-respect, the world acknowledges and respects us.
This truism is underscored in the verse quoted by Prime Minister Netanyahu yesterday: "The Lord will grant strength to his people; the Lord will bless His people with peace" (Psalms 29:11). Within the strength of our Jewish identity and its powerful expression, we achieve peace.
Yesterday's achievement came as the unbelievable conclusion to an unbelievable year.
If they would have told us a year ago that everything would be closed and canceled, that words like pandemic, corona and zoom would take over our lives, we would not have believed it.
If they would have told us that two leading Arab states would evade the Palestinian Arab issue and openly and proudly sign peace agreements with the nation of Israel, and even sing HaTikva, we would not have believed it.
It transpires that the world can change in the twinkling of an eye, for good or for bad, and so, too, can we. Look how readily we began to wear masks and now begin to plan vacations in Dubai. Let's hope that 5781 will bring with it as many surprises as possible, but all of them positive.
For this is precisely what those on the White House lawn reqested as it appears at the end of the Mincha prayer:
"Grant peace, goodness, blessing, grace, loving-kindness,and mercy to us and to all of Israel Your people. Bless us our Father, all of us as one with the light of Your face for by the light of Your face You have given us, Hashem our God, the Torah of life and love, of kindness and righteousness and blessing and mercy and life and peace, and may it be good in your eyes to bless Your people Israel at all times and in every hour with Your peace. Blessed are You Hashem who blesses His people Israel with peace."
Ed. note: Due to world events, yesterday's Daily Portion was not posted. Here it is below:

To be less self-righteous
We love to be right. All the uprightness, justice, and truth belong to us alone, while the lack of these is found only in others. They are the ones who need to change their ways while we are perfect. Rav Menachem Brod writes that this frame of mind sets the stage for the revolution that takes place at this time each year:
"Once a year we gather in the middle of the night to say Slichot (special prayers prior to Rosh Hashanah) and the self-righteousness with which we covered ourselves during the year quickly melts away. With bowed heads we declare: 'To You, O Lord, is the righteousness, and to us is the humiliation' (Daniel 9:7). The feeling of self-righteousness with which we are filled, as individuals and as a community, blocks us from listening to criticism, from seeing ourselves as deficient, from understanding that others also have points of light and beauty. We are so sure of ourselves that before we manage to hear and to internalize any sort of criticism, we already return fire and attack. We remain in the right, but we did not learn a thing.
"Those who have a true desire for spiritual elevation do not cover themselves with a robe of self-righteousness, but rather aspire to receive rebuke and criticism. The days of Slichot make it possible for us to open our hearts, to look honestly at ourselves, and to crack our armor of self-righteousness. This is the key to self-improvement, to connecting with others, and to enjoying a good and sweet year."
Translation by Yehoshua Siskin