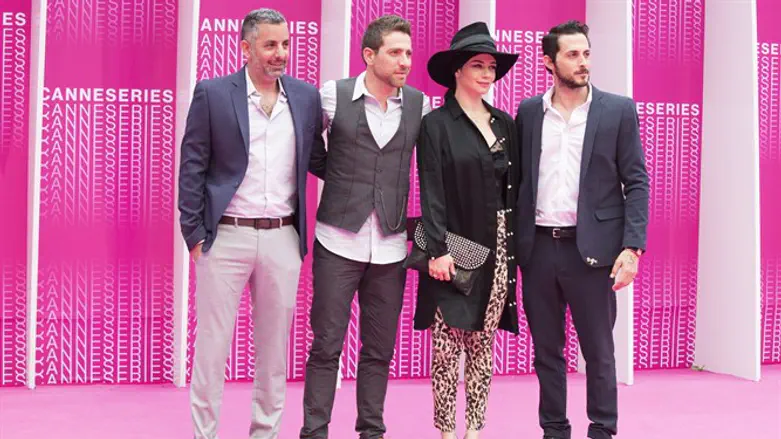 'When Heroes Fly' actors
Photo: Olivier Vigérie
The hit Israeli television series 'When Heroes Fly' will be getting an international remake courtesy of Apple's online streaming service.
Apple has purchased the rights to adapt the series from Keshet into a new ten-episode series. The new series will be named 'Echo 3.'
'Echo 3's' scripts will be handled by Academy Award winning writer Mark Boal.
The Israeli version, which was shot in Israel and Colombia, starred Tomer Kapon, Ninet Tayeb, Michael Aloni, Nadav Netz, Moshe Ashkenazi, Vanessa Chaplot, Oded Fehr, Dan Mor, Yael Sharoni, Rita Shukrun, Gil Franc, Muli Shulman, Assaf Ben-Shimon, Nili Rogel, Micha Celektar. It focused on a group of former soldiers coming together for a rescue mission years after they served together, and dealt with the issue of Post Traumatic Stress Disorder which affects many soldiers even after they return to civilian life. It was created by Omri Givon based on the novel by the same name by Amir Gutfreund.
The remake will focus on a group of American soldiers searching for a missing scientist on the Colombia-Venezuela border as a secret war breaks out.
Apple and Keshet Studios will co-produce the series. Keshet Studios' Peter Traugott will serve as co-producer.
'When Heroes Fly' premiered to rave reviews when it debuted on Israel's Keshet 12 channel in 2018 and won the first ever CanneSeries award for best series that same year. Netflix bought the rights to distribute the original series internationally in October, 2018.
Karni Ziv, Director of the Drama Department at Keshet said: "In the days when the Israeli content market is facing challenges and difficulties, this is particularly happy news. Original Israeli content is our greatest asset, to our viewers - in Israel and around the world, and to the entire content industry."