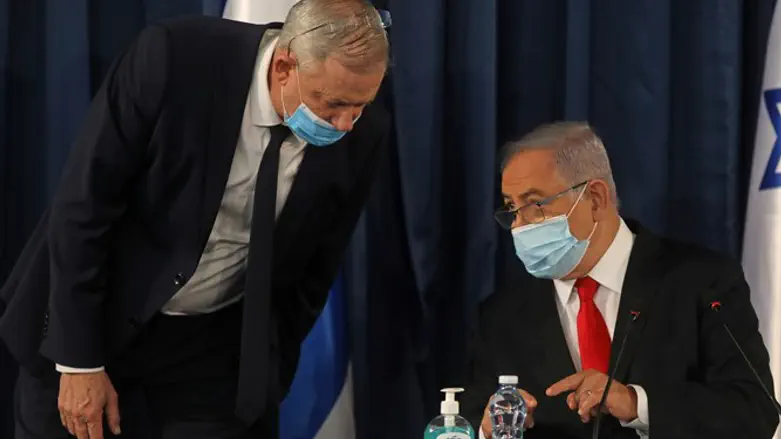 Netanyahu, Benny Gantz at cabinet meeting Sunday, June 7th
Reuters
The Israeli government will vote Sunday on changes to the government statute, since unlike in previous governments, the coalition agreement for the current government stipulates that the Prime Minister and Alternate Prime Minister will make decisions together, other than on the issue of sovereignty, for which the responsibility rests with Israeli Prime Minister Binyamin Netanyahu.
However, one section will be left out of the statute: Section 29, which allows the Prime Minister to apply sovereignty without the agreement of Alternate Prime Minister Benny Gantz (Blue and White).
This section was considered to be one of the Likud party's major - and only - achievements in the coalition negotiations.
Without the government's approval of the changes, the coalition agreement signed between the parties, which requires agreement between Netanyahu and Gantz on all issues other than that of sovereignty, does not have legal significance.
However, the section exempting the issue of sovereignty from requiring Gantz's approval or agreement is set to be left out of the document to be voted on during Sunday's Knesset session.
Samaria Regional Council Head Yossi Dagan said, "This is a fraud of the voting public, and a complete moral collapse. The Prime Minister was chosen time after time, three times in the past year, on the basis of his promise to apply sovereignty to towns in Judea and Samaria."
"This is the moment of truth for the Prime Minister. I call on the Prime Minister to stop this joke now, and not to allow the statute to be approved in this fashion."
If the statute is approved as-is on Sunday, it would put an end to the possibility that sovereignty might be applied in the coming months, as Netanyahu promised. This is because Gantz has already emphasized his unwillingness to apply sovereignty without first negotiating with the Arab world - something which is not practical at the current time.