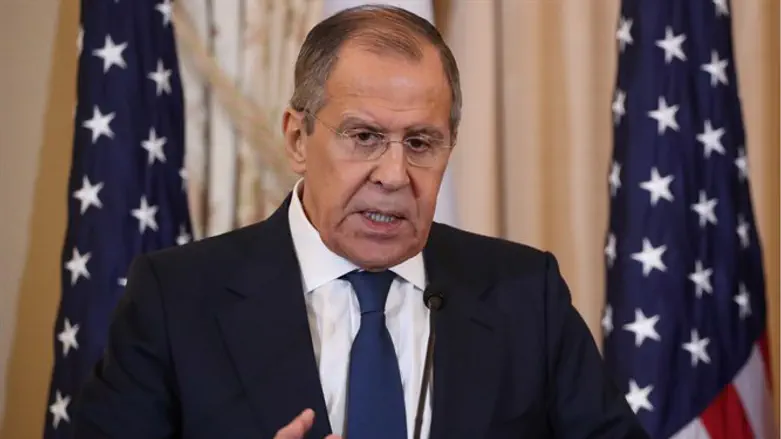 Sergey Lavrov
Reuters
Russia on Friday welcomed a pledge of unity between Fatah and Hamas against Israel's plans to apply sovereignty over Judea and Samaria, AFP reported.
The two rival groups held a rare joint press conference on Thursday, in which they pledged a united campaign against Israel's prospective plans to apply sovereignty in parts of Judea and Samaria.
"We will put in place all necessary measures to ensure national unity" in efforts against Israeli sovereignty, said senior Fatah official Jibril Rajoub at the news conference, also addressed by Hamas official Saleh al-Arouri by video-link from Beirut.
Lavrov said on Friday that Russia "noted with satisfaction the joint press conference held yesterday by representatives of Fatah and Hamas during which a decision was announced to jointly defend the interests of the Palestinian government based on the platform of the Palestinian Liberation Organization."
Speaking at a meeting with a top Libyan official, Lavrov added that the "restoration of Palestinian unity" was "one of the key questions that needs to be resolved."
He said Moscow was counting on "all Arab representatives to actively support this trend."
Fatah, which controls the Ramallah-based Palestinian Authority, and Hamas that runs the Gaza Strip have been plagued by divisions for more than a decade.
Hamas has been ruling Gaza since 2007, when it overtook the coastal enclave from Fatah in a bloody coup.
Since then, the two groups have been embroiled in a bitter rivalry. The two organizations signed a reconciliation deal in October of 2017, under which the PA was to have resumed full control of Gaza by December of that year.
That deadline, however, was initially put back by 10 days, had later reportedly hit "obstacles", and has never been implemented.
Thursday's joint press conference was spurred by Fatah and Hamas' common opposition to US President Donald Trump's Middle East plan.
In a formal counter-proposal presented to the international peacemaking Quartet including Russia, the PA leadership said they are prepared to renew long-stalled peace talks with Israel and to agree to "minor" territorial concessions.
Lavrov stressed the need to "immediately renew, relaunch direct Israeli-Palestinians talks under the aegis of the quartet of international peace brokers and with the active participation of Arab states."
Russian President Vladimir Putin has in the past expressed a desire to host an Israeli-Palestinian Arab summit to revive the stalled peace talks between the sides, but nothing has materialized yet in this regard.
(Arutz Sheva's North American desk is keeping you updated until the start of Shabbat in New York. The time posted automatically on all Arutz Sheva articles, however, is Israeli time.)