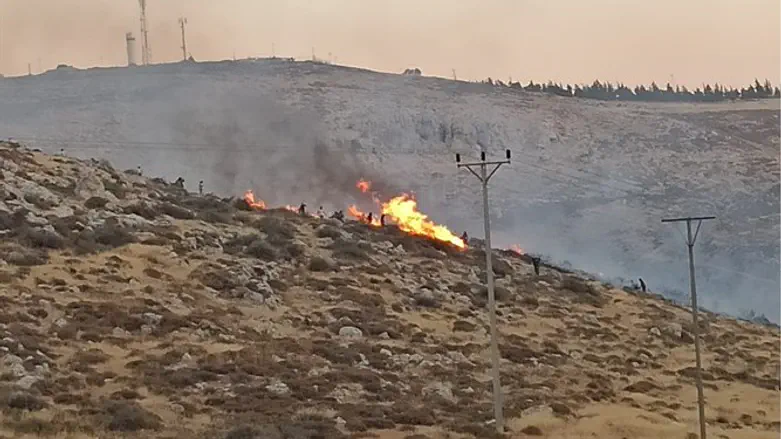 Residents try to extinguish edge of blaze: Kochav Hashachar
Yosef Yehoshua Sones
A massive fire raged last night near the communities of Kochav Hashachar and Ma'aleh Shlomo in Binyamin, threatening to destroy a number of residential houses. Local residents say it is the latest in a series of fires set deliberately by Arabs currently squatting in the area. They say fires are set twice a week for the past two months while authorities are unable to catch the arsonist.
Firefighters, along with dozens of teenagers, worked for about 3 hours to extinguish the blaze.
Fire and Rescue Commander Shlomo Mizrahi told Hakol Hayehudi: "This is a fire in an open area in the wadi between the Kochav Hashachar and Rimonim communities. The front of the fire spread with the wind and stretches for two to three kilometers. Six firefighting teams from Binyamin with fire extinguishers and residents assisted the work. The fire was extinguished by beating it out due to the mountainous terrain," Mizrahi said.
Blaze approaches community engangering livestock
Yosef Yehoshua Sones
Firefighting and Rescue Services added: "This area is recognized as open space which is an important nature reserve and rich animal habitat."
It is suspected that this fire was deliberately ignited by Arabs for the tenth time in recent weeks.
"Arabs are trying to burn us, but as far as the State of Israel and the security system are concerned, it isn't a terror attack at all. As long as they are not treated as terrorism for intents and purposes, these horrible fires will continue," an area resident said.
"One has to understand," the resident continues, "any such fire, besides the fact that it endangers lives and could seriously damage the community, buildings, and more, actually destroys vast pasture land and harms shepherds and farmers in a severe and absolute manner."
Fires ravage grazing land near Kochav Hashachar
Yosef Yehoshua Sones