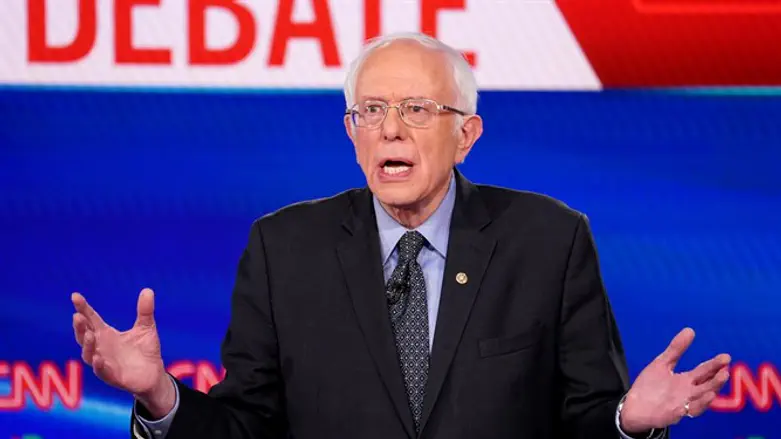 Bernie Sanders
Reuters
Senator Bernie Sanders (I-VT) has added his name to a letter by Democrats against Israel's plans to apply sovereignty over Judea and Samaria, Haaretz reported on Tuesday.
The letter, which is being spearheaded by Rep. Alexandria Ocasio-Cortez, calls to limit or withhold US military aid to Israel should it follow through with the plan.
Sanders is one of a dozen Democratic lawmakers, and the only one from the Senate, to join the letter.
"Should the Israeli government move forward with the planned annexation with this administration's acquiescence, we will work to ensure non-recognition as well as pursue conditions on the $3.8 billion in U.S. military funding to Israel, including human rights conditions and withholding funds for the off-shore procurement of Israeli weapons equal to or exceeding the amount the Israeli government spends annually to fund settlements, as well as the policies and practices that sustain and enable them," says the letter, according to a copy obtained by Jewish Insider on Monday.
AIPAC launched a campaign against the letter, saying on Twitter on Monday that it "explicitly threatens the US-Israel relationship in ways that would damage American interests, risk the security of Israel & make a two-state solution less likely."
An action alert urged activists from AIPAC to contact their representatives to oppose the letter.
Democrats have been vocal in their opposition to Israel's plan to apply sovereignty over parts of Judea and Samaria.
Earlier this month, a group of Democratic Senators, including Senate Minority Leader Chuck Schumer (D-NY), Senator Bob Menendez (D-NJ) and Senator Ben Cardin (D-MD), issued a statement in which they expressed their opposition to the sovereignty move.
The senators noted that direct negotiations between the Israelis and the Palestinians are "the only path for a durable peace." They warned that annexation "could undermine regional stability and broader US national security interests in the region."
Last month, 19 Senate Democrats sent a letter to Prime Minister Binyamin Netanyahu and Alternate Prime Minister and Defense Minister Benny Gantz in which they warn against an Israeli move to apply sovereignty over Judea and Samaria.
Sanders has repeatedly criticized the Israeli government and has asserted that it is racist.
Late last year, Sanders caused an uproar when he told the J Street conference that the US should redirect its aid to Israel and give it to Gaza instead.