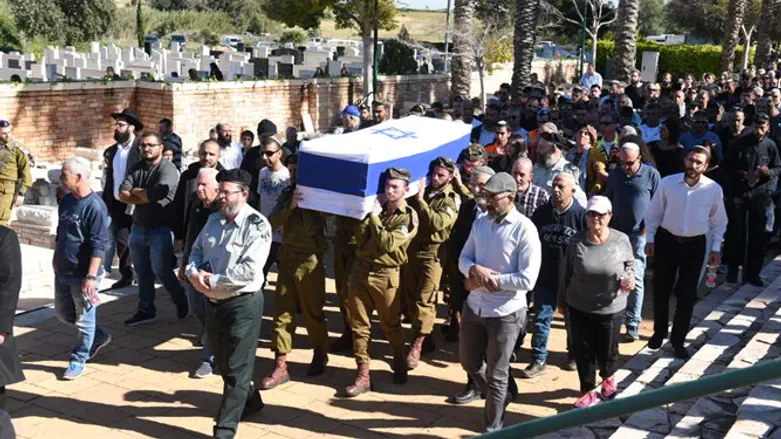 Funeral of Yuval Mor-Yosef
Kobi Richter/TPS
This Wednesday, the Ofer Military Court handed down four life sentences to Isam Barghouti, the terrorist who was involved in the shooting attack at the Givat Assaf junction in which IDF soldiers Yuval Mor Yosef and Yosef Cohen were killed, as well as the attack at the Ofra junction, in which the (then-unborn) baby Amiad Yisrael Ish-Ran was killed and his parents, Amichai and Shira, were wounded.
Judges Lieutenant-Colonel Tzvi Heilbrun, Lieutenant-Colonel Itai Adar, and Major Sebastian Osovski, stated that, "The perpetrator acted in a premeditated manner and showed no mercy. This is a clear case in which the Court must impose a life sentence. We believe that the perpetrator deserves such a punishment due to having intentionally caused death in such a manner. The actions of the perpetrator cut short the lives of two young victims and one other exceedingly young victim. Even after the verdict, the families of the victims will be left with their grief and bereavement, and will have to live with the thought of the difference between what should have been and what was," they noted.
In the Givat Assaf attack, Sergeant Yuval Mor-Yosef of Ashkelon and Corporal Yossi Cohen of Beit Shemesh were killed. The two soldiers served in the Netzach Yehuda brigade in Nahal Haredi, and were shot by the terrorist in the course of a security operation in Judea. An additional soldier was seriously wounded in the attack.
A few days prior to the attack, Barghouti carried out a shooting attack at the Ofra junction, this time together with his brother Salah. The two of them opened fire at several people who were standing at the bus stop. Shira Ish-Ran, who was then at an advanced stage of pregnancy, was gravely wounded. Her husband Amichai sustained moderate wounds, and five other people were also injured. Shira Ish-Ran's baby was delivered by emergency C-section and died three days later. After his death, he was given the name Amiad Yisrael.
Salah Barghouti was eliminated a few days after the Ofra attack, during the course of an attempt to arrest him – he tried to flee and was shot and killed by IDF forces.
Motti and Ilanit Mor-Yosef, the parents of Yuval Hy"d, are members of the "Choose Life" forum for bereaved families. In response to today's verdict, they stated: "Today, a verdict was handed down to the accursed terrorist who murdered our son … and his friend Yosef Cohen Hy"d. As far as we are concerned, this does not give us any closure. He should have been sentenced to death and hanged in public so that people would see and have fear instilled in them. That is the solution! Furthermore, before he is taken out to be killed, he should be shown his home being demolished and his family piled into a bus and deported from the country. As long as there is no deterrence, the terror will continue."
Mor-Yosef emphasized that, "Who is guaranteeing that the accursed terrorist will remain in prison for the rest of his life and won't be released? All that will happen now is that he'll be sent to a nice hotel where he can complain about the quality of the food … and then, he can learn and emerge with a degree. In any other country, he would be thrown into a dungeon for the rest of his life, never again to see the light of day. We don't even want to think about the fact that he will be imprisoned in our own town, not far from our home, in the Ashkelon security prison. He should have been killed instead."