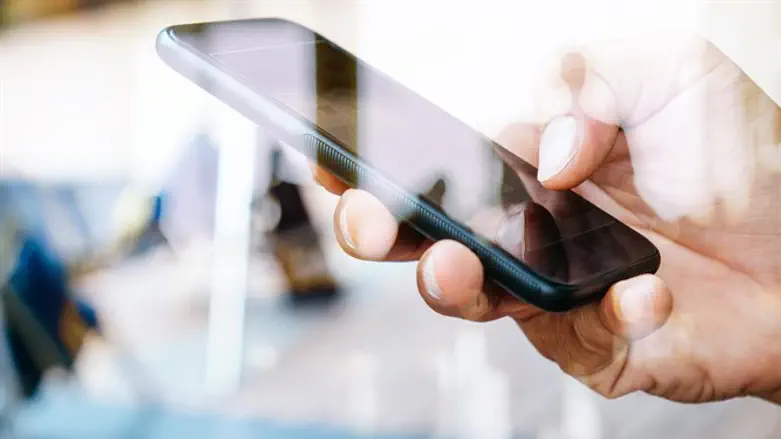 Holding a smartphone
iStock
On Wednesday, the government unanimously approved a decision to present the Knesset with a bill that would allow Shin Bet tracking of coronavirus patients.
At the opening of the cabinet meeting, PM Netanyahu said, "I asked to accelerate the development of the digital application. It will take weeks, and I hope not months. Until then, we are asking to complete the legislation for use of the digital tool of the Shin Bet."
He added that he hoped the coronavirus infection rate would slow down in the meantime and "we won't even have to use" Shin Bet tracking of coronavirus patients.
Blue and White Chair Benny Gantz gave a green light to advance the legislation. Minister of Energy Yuval Steinitz argued at the discussion about Shin Bet tracking that it is impossible to give up its use before there is a suitable alternative.
"A month ago, I voted against freezing use of Shin Bet tracking and asserted that we need to be closely monitoring the situation and not give up on an effective tool in cutting off chains of infection," Steinitz said.
"The use of digital tools is critical to me, for the sake of saving lives, and to reduce the risk that we will have to impose an additional lockdown on the population."
According to Channel 12, a Shin Bet representative announced at the meeting that Shin Bet Head Nadav Argaman had decided to remove his opposition to the use of Shin Bet tracking to fight coronavirus. The representative said Argaman had made the decision at the request of the PM and with the understanding that Israel faced an emergency situation.
Last week, according to Channel 12, recordings were leaked from a cabinet meeting in which Argaman was heard vehemently opposing Shin Bet tracking against civilians in the fight against coronavirus. The Prime Minister, on the other hand, pushed for using special measures, claiming this was the best way to beat the virus.
MK Tamar Zandberg (Meretz) today strongly criticized the government initiative to renew the tracking.
"Tracking civilians through the Shin Bet is a danger to Israeli democracy and a slippery slope. Out of countless solutions implemented around the world, Israel is the only country in the democratic world that has opted for forced surveillance by the Secret Service. This is a decision that must bother every citizen of Israel."