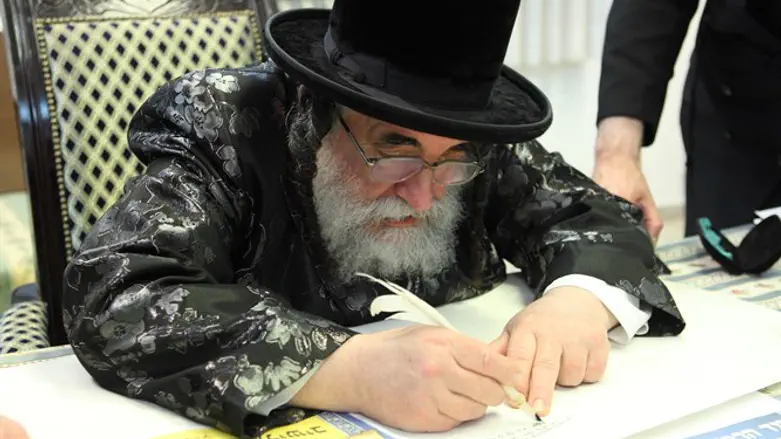 The Vizhnitzer Rebbe
Photo by Yaakov Naumi/Flash90
On Tuesday evening, Health Minister Yuli Edelstein (Likud) arrived at the home of the Vizhnitzer Rebbe, who serves as a presidential member of the Council of Torah Sages, to update him on the current status of the coronavirus infections in Israel and to request his aid in stemming the outbreak.
Accompanying Edelstein on his visit was Committee for Public Petitions Chairman Yaakov Tesler.
The Vizhnitzer Rebbe asked about the necessity of the recent localized lockdowns, and expressed concern that children would not be able to study properly. In response, Edelstein said that schools continue running as normal at the moment, and if the guidelines are strictly adhered to, it will be possible to remove the newer restrictions relatively quickly.
Edelstein also noted that the purpose of his visit was to prevent lockdowns in additional cities, expressing concern that such lockdowns may become a necessity. He added that the class of a confirmed coronavirus patient will not be closed for more than two days, during which quick testing of other students would be conducted.
The Vizhnitzer Rebbe blessed Edelstein for his work for the public and his efforts to stop the virus from spreading, saying, "It is a Torah commandment and an obligation to adhere to all of the Health Ministry's instructions, and especially to wear a mask. Anyone who takes this lightly is endangering others."
"We have said this from the outset, and we warned that people should not take this lightly and that there is no compromise at all when it comes to protecting people's lives."
Earlier on Tuesday, Edelstein visited the Health Ministry's storage room for equipment at the Tel Aviv Expo. The facility provides N95 masks, surgical masks, protection suits. He also toured Tel Hashomer's Sheba Hospital.