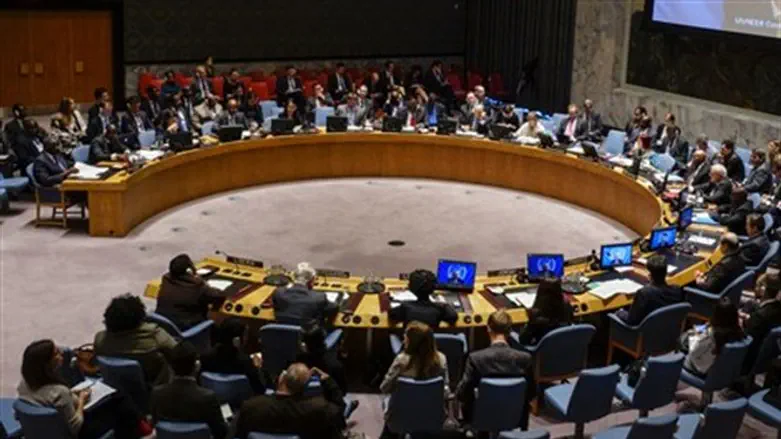 UN Security Council
Reuters
Leaders of the Conference of Presidents of Major American Jewish Organizations on Tuesday released a statement in which they welcomed the US call for an extension of the UN embargo on Iranian arms
"We call upon the United Nations Security Council to extend the arms embargo on Iran that expires in October, by adopting the resolution the United States will introduce this week," said Arthur Stark, Chairman, William Daroff, CEO, and Malcolm Hoenlein, Vice Chair of the Conference of Presidents.
"The security of US forces, as well as those of our allies including Israel, are threatened by Iran's bellicose and aggressive activities in the region. Iran must not be permitted to amass additional weapons for their own use and to supply their terrorist networks," they added.
"We encourage the international community to join the US in urging the UN Security Council to extend the embargo on arms sales to Iran ahead of the embargo's expiration this fall."​
A ban on selling conventional weapons to Iran ends in October under a 2015 Security Council resolution that blessed the nuclear deal between Iran and world powers and from which US President Donald Trump withdrew in 2018.
US Secretary of State Mike Pompeo recently vowed to use all means available to extend the UN arms embargo on Iran.
However, Britain, France and Germany made clear last week they would not back US efforts to unilaterally trigger the reimposition of United Nations sanctions on Iran.
The European Union's top diplomat, Josep Borrell, has argued that since the United States has already withdrawn from the 2015 Iran nuclear deal, it can't now use its former membership of the pact to try to impose a permanent arms embargo on the Islamic Republic.
Iran, as expected, has criticized US calls to renew the arms embargo. Iran's President Hassan Rouhani recently urged UN Security Council members to oppose what he called a US "conspiracy" to extend the embargo.