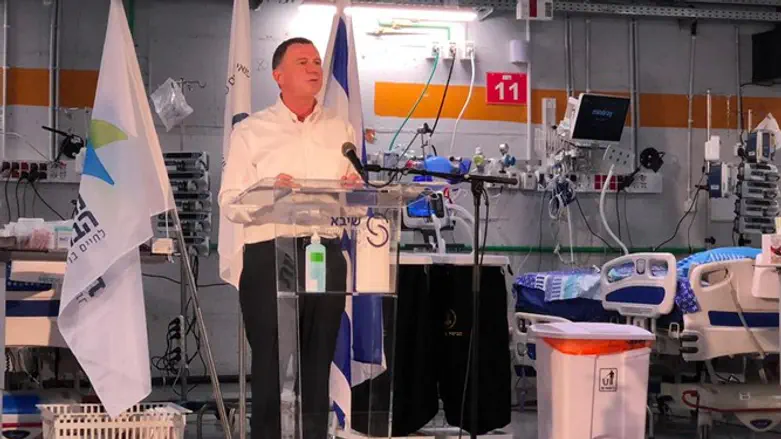 Edelstein next to array of medical equipment
Health Ministry
Health Minister Yuli Edelstein today visited the Coronavirus Subdivision at Sheba Hospital and announced admission of 190 students out of 273 available slots to conduct epidemiological investigations. "We are preparing for difficult scenarios, in hopes we won't get to that."
The Minister further said: "The answer to those who say why a fine is necessary is simple: Keep the rules and you won't get a fine. Just like driving. I don't want to see the spectacle of someone getting a fine. I'd love for a business owner not to provide service to customers who enter without a mask, so the customers who enter the mall come with a mask.
"We may still announce some areas as red zones during the day, but we won't reach total closure at this point. We ask the residents to accept this patiently. The goal is to cut off the infection chain, and I thank the local authorities for their cooperation."
As for bolstering manpower for epidemiological investigations he said: "As of Thursday, 2,000 medical and nursing students were enrolled to serve as epidemiologic researchers. The response was very impressive and within an hour of the ad being published there were 400 registrants, of whom 273 people will be accepted. 190 candidates have already been accepted and taken to the districts. And tomorrow their training will start in the districts and they'll start working.
"I expect that by the end of the week, dozens of other workers will also be absorbed and help us in the all-important operation of cutting the infection chain," he said.