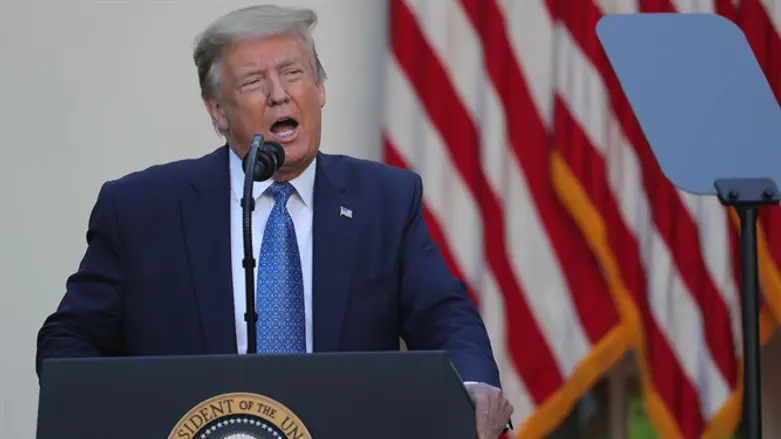 Donald Trump
Reuters
A group of Israeli generals penned a letter to President Donald Trump thanking him for his support of Israel, and endorsing his administration's willingness to recognize Prime Minister Binyamin Netanyahu's bid to apply Israeli sovereignty over parts of Judea and Samaria.
The open letter was signed by 18 Israeli generals, and was drafted by the Habithonistim – Protectors of Israel organization. US Ambassador to Israel David Friedman presented the letter to President Trump. The letter was also published in The Hill newspaper in Washington DC Tuesday.
Dear Mr. President;
We write to you in the name of more than a thousand senior military officers and combat soldiers from the Israel Defense Force reserves who have joined together in recent months to form a new social movement called "Habithonistim – Protectors of Israel".
We want to thank you for your deep commitment to the State of Israel and the Jewish people.
We thank you to for recognizing our sovereign rights and our deep historical and religious connection to the land of Israel, by among other things, recognizing that Jerusalem is now and has always been our capital, and moving the Embassy of the United States to the city. We thank you for respecting Israel's national security requirements, among other things, by recognizing our sovereignty over the Golan Heights.
Your farsighted vision for peace, which includes a recognition of Israel's sovereign rights in Judea and Samaria – the cradle of Jewish civilization -- has put wind in the wings of thousands of Israel Defense Force officers and warriors and buffeted the sails of the Israeli nation as a whole.
Mr. President, thanks to your friendship and visionary leadership, we stand now at an historic crossroad in the 4,000-year history of the Jewish people in the Land of Israel. We trust that you will continue to work to secure the future peace of the people of Israel and of the Middle East as a whole by standing with Prime Minister Benjamin Netanyahu as he applies our sovereignty to our eastern frontier, the Jordan Valley and to our cities, villages and farms in Judea and Samaria in accordance with your visionary peace plan.
As God Almighty said to Joshua as he stood before the Jordan River, poised to lead the Nation of Israel to the Promised Land, so we say to you today: "Be strong and of good courage."
With deepest gratitude and respect,
General Gershon Hacohen
General Yossi Bachar
General Danny Bitton
General Shalom Kaatabi
General Yossi Kuperwasser
General Zvika Fogel
General Amir Avivi (CEO of Habithonistim – Protectors of Israel)
General Harel Knafo
General Dovi Yung
General Avigdor Kahalani
General Moshe Sheli
General Nehemia Sokal
General Yitzhak Gershon (Jerry)
General Avi Gur
General Eli Perets
General Amatsia Chen
General Albert Lankry
General Yossi Mikdas