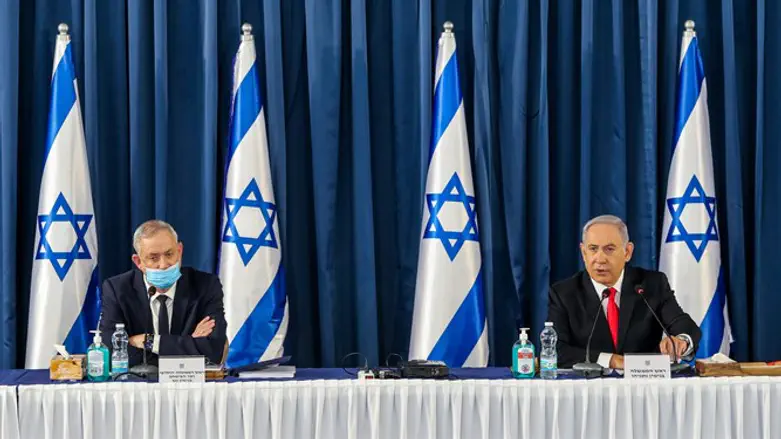 Netanyahu and Gantz
Marc Israel Sellem
Prime Minister Binyamin Netanyahu would win a record sixth term as premier if new elections were held today, a poll released Friday shows.
According to the poll, which was conducted by Maagar Mohot and released by Radio 103FM, the Likud party has opened up a massive lead over rival factions on the center-left.
If new elections were held today, the poll found, the Likud, headed by Netanyahu, would win 41 seats, the best performance for the party since 1981 and five more than the party won this year.
In a distant second is the center-left Yesh Atid party, running in an alliance with the centrist Telem faction. Combined the two factions would receive 16 seats, the poll projected.
The Joint Arab List would retain its 15 seats, the poll found.
Defense Minister Benny Gantz, who also serves as alternate prime minister, would win just 13 seats at the helm of his Blue and White party if new elections were held today.
Among the haredi factions, Shas would retain its nine seats, while United Torah Judaism would rise from seven to eight seats.
The secular rightist Yisrael Beytenu party, which currently has seven seats, would again win seven seats if new elections were held, while Meretz, which received three seats as part of a joint list with Labor and Gesher, would rise to five. Labor, however, would fail to cross the 3.25% electoral threshold, receiving the equivalent of just two seats.
Yamina would retain its six seats, the poll found.
Broken down into blocs, the right-wing – haredi camp would net a total of 64 seats, the poll projects, while the center-left-Arab bloc would win 49 seats. In this year's election, the rightist bloc won 58 seats, compared to 55 for the center-left-Arab bloc.
The poll also surveyed respondents regarding Netanyahu's plan to apply Israeli sovereignty to parts of Judea and Samaria.
Of those respondents who had an opinion on the matter, 67% said they backed applying Israeli sovereignty, compared to 33% who oppose doing so.
The Maagar Mohot poll surveyed 503 respondents, and has a margin of error of 4.4%.