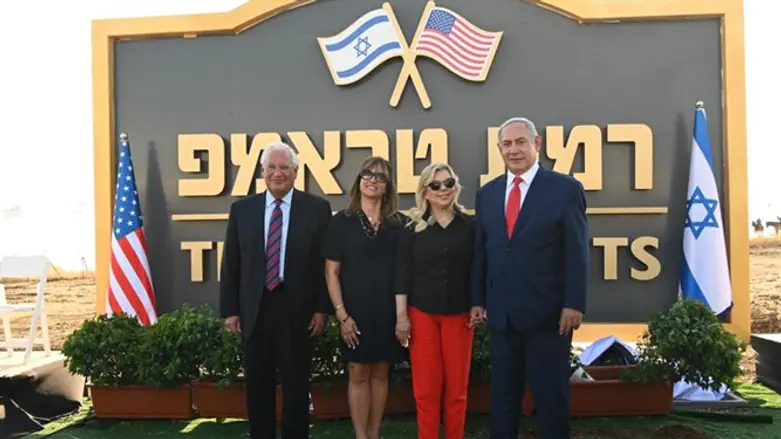 Netanyahu, Ambassador David Friedman and their wives at Ramat Trump
Matty Stern, U.S. Embassy Jerusalem
The government is expected to approve on Sunday the establishment of the community of Ramat Trump in the Golan Heights, which was meant to pay tribute to US President Donald Trump's decision to recognize Israeli sovereignty over the Golan Heights.
Ramat Trump will be located near the Golan Heights community of Kela Alon. The government approval of the community follows Trump's decision to impose sanctions on the International Criminal Court in The Hague.
The explanatory notes to the decision state, "The initiative to establish a new community in the Golan Heights, named after President Donald Trump, expresses gratitude for his work for the State of Israel in general and the Golan Heights in particular. It is important to advance the decision to establish the community at this time in order to strengthen the political ties between Israel and the United States. "
The decision states that by 2020, eight million shekels will be allocated for the planning of Ramat Trump, three million of which will go to the Ministry of Housing and five million of which will go to the Ministry of Settlement Affairs toward the construction of temporary mobile buildings.
The Ministry of Finance's economic opinion says that 28.5 million shekels in financial resources would be required in order to advance the marketing of the community.