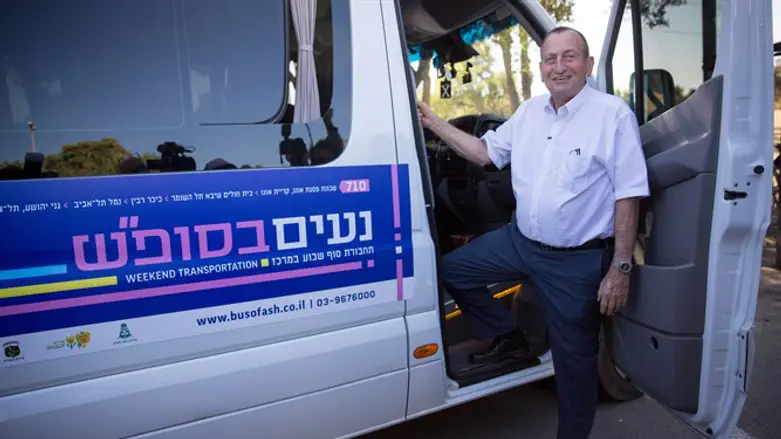 Mayor of Tel Aviv Ron Huldai beside one of the Shabbat buses
Miriam Alster/FLASH90
Despite the renewed outbreak of coronavirus in Tel Aviv and other towns in the Gush Dan region in central Israel, mayors from the Gush Dan region have announced that the "Shabbat (Sabbath) buses" will resume operations.
The buses will operate in Givatayim, Yehud-Monosson, Kiryat Ono, Ramat Hasharon, Shoham, and Tel Aviv.
The haredi Hamevaser newspaper quoted haredi public figures, who voiced outrage over the development.
"Despite the fact that this is not the first time they are harming the holy Sabbath, the most precious thing to the Jewish nation, it is ten times more infuriating and upsetting that now, when it seems we are on the brink of a second outbreak of the plague and we need more than anything else that the merit of the Sabbath should protect us, they are again trying to publicly trample the Sabbath."
"The prayer and hope of those residents who protect the Sabbath is that their plot will not succeed, and at the last minute they will also understand that more than the Jewish people preserve the Sabbath, the Sabbath preserves us. During these stressful times, when it seems that we are moving backwards to a period which we all wanted to forget, they would do well to remove their hands from this severe plan, so that the Sabbath's holiness will return and fill the streets of the Land of Israel."
The Shabbat buses are free for residents and funded by the municipalities, in what religious residents say is a discriminatory use of property tax payments
Tel Aviv is at the center of Israel's newest coronavirus outbreak, with 129 of its residents diagnosed with coronavirus in just a week. Currently, Tel Aviv's doubling rate is higher than that of Jerusalem, despite the fact that numerically, Jerusalem has more new cases.