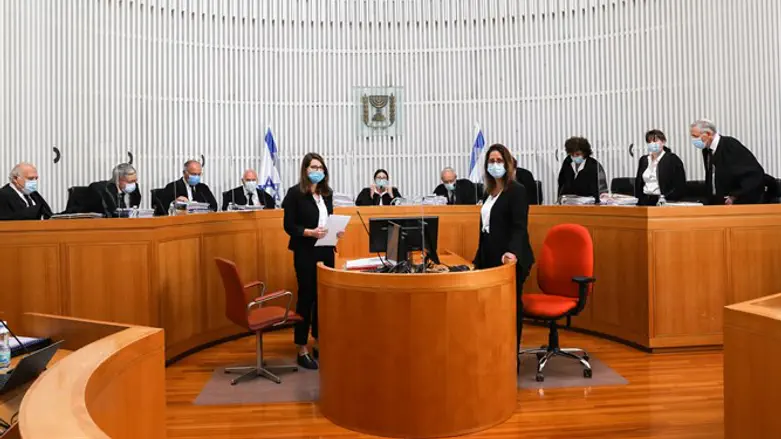 High Court
Yossi Zamir/POOL
The Supreme Court declared the Regulation Law unconstitutional on Tuesday. Eight justices voted to strike down the law while one judge dissented.
The Regulation Law allowed the government to normalize the status of thousands of homes which have been in legal limbo for years.
Supreme Court President Esther Hayut wrote in her decision: "In my opinion, it is necessary to adopt the Attorney General's position and order the nullification of the Regulation Law. This result stems from the conclusion I reached, whereby the law does not meet the constitutional standards of Israeli law. In light of this conclusion, there is an urgent need to decide on the further fundamental and weighty questions raised in the petitions."
Hayut added: "In terms of the result, there is discrimination between Israeli and Palestinian residents regarding the regulation of illegal construction in the area, even though it is not possible to point to relevant difference in this context between the populations in these communities. Therefore, we can determine that the Regulation Law violates the constitutional right to equality and respect for the residents of the Palestinian region."
The Likud movement said in response to the ruling: "It is unfortunate that the Sumpreme Court intervened and struck down a law which was important for the settlements and for the future. We will work to re-enact the law. "
Health Minister Yuli Edelstein stated: "The Supreme Court has lost it. It declares itself the legislature, executive, and judiciary all at the same time. We must put an end to this. The way to do it is through passing the Overrule Clause. If the High Court does not recognize its limitations then the Knesset must set the restrictions."
The Regavim movement said in response: "We congratulate the Supreme Court for finally removing its mask and abandoning its pretense of impartiality. Just last week, the Justices of the High Court urged the state to regulate widespread illegal Arab settlement in Mount Hebron and the Negev by taking steps that include retroactive approval of thousands of illegally-built homes and expropriation of Jewish-owned private land. The Justices stressed that 'the High Court does not run the country.'"
"Today's Supreme Court decision ruled against the self-evident authority of the legislative branch to formulate and implement legal, decent and moral solutions to specific legal issues surrounding the settlement enterprise in Judea and Samaria. Today, at last, the Supreme Court has admitted that for all practical purposes it is a Supreme Court of Subjective Justice. "