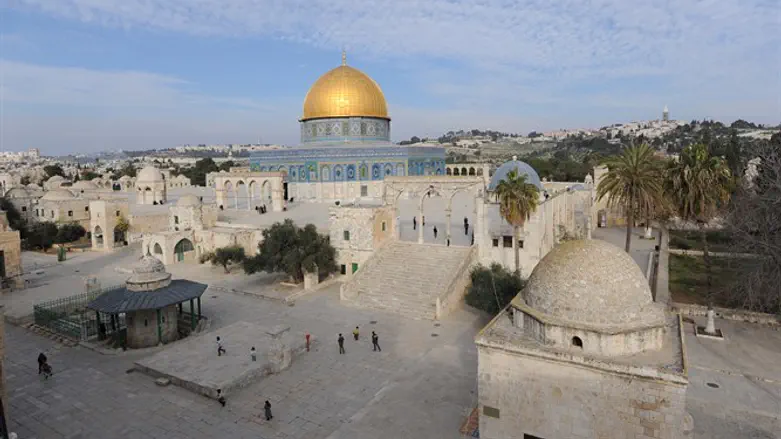 visiting the Temple Mount
צילום: מנדי הכטמן, פלאש 90
G. ascended the Temple Mount Wednesday morning with her daughter, an infant less than half a year old. When she stopped to breastfeed her child, she was approached by police who told her to stop and that she was committing a provocation.
In addition, when she left the site, police demanded her ID number for examination.
"There were maybe around thirty people around me, it was a very unpleasant situation," G. told Arutz Sheva afterwards.
The unusual incident happened after G. realized that the reason her baby was crying was because she was hungry and needed to breastfeed. Although no directive is known that prohibits breastfeeding in the area of ​​the Temple Mount, G. went and asked one of the police officers whether she was allowed to breastfeed. The officer replied that he would ask the officer in charge and return in a minute with an answer.
About a few minutes later she was told that in a minute the answer would come, all the while the baby continued to cry. G. decided to sit down and cover herself with a blanket and began to breastfeed the child.
A number of police officers approached her and demanded that she stop breastfeeding. G decided she would calm her daughter down first. "I could finish this breastfeeding in a minute already and soothe her," said G. "But instead they just made a serious scene there."
"The policeman told me that I should not breastfeed because it creates a provocation. I told him, 'You are the one who creates a provocation.' This is something that is natural and I am doing it modestly."
Tom Nissani, chair of the Student Movement for the Temple Mount, said: "The conduct of the police officer on the Temple Mount reflects the status of sovereignty and human rights in the complex. Where a woman must not breastfeed while maintaining her modesty for fear of provocation. It is not the laws of the free State of Israel that prevail but the Islamic Shari'a laws of the Jordanian Waqf. It is a surrender to terrorism. That absurdity must stop."