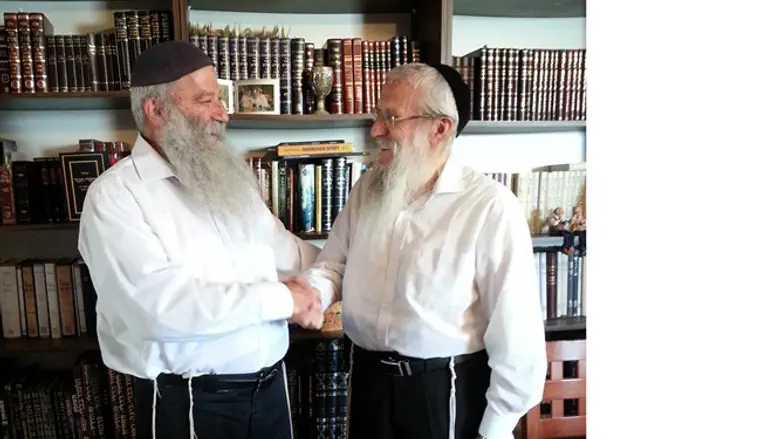 Fishman, Mendelevich
Tzvi Fishman
Today, the 11th day of Sivan (June 15, 1970) marks the 50th anniversary of "Operation Wedding" when Yosef Mendelevich and a group of friends from the Jewish Underground in Russia were arrested for attempting to hijack an airplane to escape Soviet oppression and fly to freedom in Israel.
Their arrest led to the "Leningrad Trial" which created international headlines and put the struggle for Soviet Jewry on the world map.
Mendelevich, now a Rabbi living in Jerusalem, was sentenced to eleven years in Siberian prisons and work camps. His defiant insistence on studying Torah and keeping Shabbat throughout his incarceration, and his long hunger strikes and prolonged punishment in solitary confinement, created headlines around the globe, which led to the Kremlin's decision to open the gates of Aliyah.
Marking the 50-year anniversary of the fight for freedom, Rabbi Mendelevich has teamed up with screenwriter and movie director Tzvi Fishman in co-writing a full-length script that portrays his part in the struggle of the Jewish Underground to shatter the Iron Curtain.
Fishman reports that efforts are underway to get the script to Netflix, which has recently produced a few Israel-related movies, such as the six-episode series about the Israeli spy, Eli Cohen. Israel National News asked Fishman how he, a former Hollywood screenwriter, managed to put himself into the shoes of a prisoner in the former Soviet Union.
"First of all, I sat for hours on end with Rabbi Mendelevich, hearing him retell his incredible story. In addition, in America, I was a prisoner too. In a way, my imprisonment was more difficult than his. At least he knew that he was in prison. He could see the barbed wire and the bars of his cell. In America, the bars are invisible. The Jews there think they are free, when in fact, they are imprisoned by all of the illusionary pleasures of Jewish life in galut. It isn't politically correct to say it, but maybe the ongoing riots and Corona epidemic will help them to open their eyes and see the reality of their situation. We hope that a movie depicting Rabbi Mendelevich's heroic struggle will inspire the Jews of the Diaspora to board the first airplane they can to the true Promised Land."
The screenplay is called "Freedom." Here is an excerpt portraying the hijacking attempt and arrest that triggered headlines around the world:
EXT. FOREST. NIGHT

YOSEF, YISRAEL, and TOLYA are drinking tea around their camp light. They hear the SOUND of a car and look up surprised. YOSEF instinctively extinguishes the lamp.

Some fifty meters away, beyond the trees at the edge of the forest, a black Volga, KGB vehicle, appears on the road and comes to a stop. A strong flashlight is turned on and the bright beam scans the forest.

YOSEF, YISRAEL, and TOLYA huddle close to the ground. The beam of the flashlight passes over their heads.

Across the road, through a clearing between two trees, A KGB AGENT, dressed in a business suit, get out of the car. Silhouetted by the headlamps of the car, he turns his back to the road and stands as if he is urinating.

The THREE HIJACKERS watch.

Across the road, the KGB AGENT returns to the car, pauses to stare across the road at the forest, then enters the vehicle. The car drives off.
Museum of Political Prisoners in Ternopil
iStock
BACK TO YOSEF, YISRAEL, and TOLYA

YOSEF

That's interesting.

TOLYA (grimly)

They're on to us.

YISRAEL

Maybe we should abort the mission.

YOSEF

If they know about us, then it's better they arrest us at the airport, and not when we're fleeing through the forest in fear.

CUT TO:

EXT. AIRFIELD. DAY

A 12-seater, Russian airplane of the 1960's sits at the edge of the small, local airfield beyond a wire fence. CAMERA PANS TO THE EDGE OF THE FOREST. Carrying their backpacks, YOSEF, ZEV, YISRAEL, AND TOLYA stand looking at the airfield from their shelter of trees.

CLOSER ON THE GROUP

YOSEF wears a beret on his head, sunglasses, and a Polish raincoat.

YISRAEL

Come on, Yosef. In that outfit, you're bound to draw attention.

YOSEF frowns, nods, and takes off his raincoat. Then he takes off his sunglasses and the beret.

CUT TO:

EXT. LAWN ACROSS FROM TERMINAL. DAY

YOSEF and YISRAEL pass the lawn where MARK sits having a picnic with his WIFE and TWO DAUGHTERS. A guitar rests at his feet.

YOSEF gives MARK a slight nod and continues walking.

MARK gives a slight nod back and continues to talk to his children.

EXT. THE AIRPORT TERMINAL ENTRANCE

It is a simple terminal building for short flights. PASSENGERS are arriving for their departures. Here and there in the CROWD are MEN that look like the stereotyped picture of KGB agents.

YOSEF and YISRAEL approach the entrance, noticing the suspicious secret service police.

CLOSE ON A KGB AGENT

CLOSE ON ANOTHER KGB AGENT

CUT TO:

INT. TERMINAL LOBBY

YOSEF and YISRAEL enter the terminal along with other PASSENGERS.

YISRAEL (quietly)

They're on to us. Maybe we should call it off.

YOSEF (smiling and determined)

Freedom fighters don't run away.
Museum of Political Prisoners in Ternopil
iStock
YOSEF walks off in one direction and YISRAEL in another until they disappear in the CROWD.

EXT. AIRPORT BUILDING. DAY

On the road outside the building, a fleet of police cars, unmarked sedans, and army jeeps converge on the terminal. POLICEMEN, SOLDIERS, and KGB AGENTS hurry out of the vehicles and line up outside the building.

INT. BOARDING GATE

A MAN sits on a bench reading a newspaper across the hall from the boarding gate. The newspaper covers his face. When he lowers the newspaper to turn a page, we see that it's YOSEF. He looks across the hall.

Near the boarding gate, a BUSINESSMAN, who could easily be a KGB agent, stands smoking a cigarette, as if he is waiting for the boarding call. CAMERA PANS to another PASSENGER, who stands reading a newspaper. He also might be an agent of the secret police.

BACK TO YOSEF – He looks at them suspiciously, then turns his gaze in another direction. SWITCH TO SLOW MOTION:

YOSEF'S POINT OF VIEW – A woman, SYLVA ZALMANSON, and her husband, EDUARD, sit waiting on a bench as a few PASSENGERS begin to form into a line at the gate.

CLOSE ON YOSEF – He gives EDUARD an imperceptible nod.

EDUARD and SYLVA stand and walk to the line of PASSENGERS.

YOSEF looks in another direction.

CLOSE ON THE BUSINESSMAN/KGB AGENT – He looks at his wristwatch, acting like he's anxious to board the plane.

YISRAEL and ZEV walk toward the line from another direction.

CLOSE-UP ON the BUSINESSMAN/KGB AGENT - He follows the actions of the hijackers with his eyes.

YOSEF folds up his newspaper and stands up from the bench. SWITCH BACK TO NORMAL FILM SPEED:

TOLYA hurries across the CROWDED hall and joins the line.

Another hijacker, BORIS, bumps into YOSEF. They exchange secret looks, as if BORIS is asking if the hijack is on, and YOSEF answers yes with his eyes and with an imperceptible nod. Then BORIS walks off toward the boarding line as a TRAVELER get between them.

A BOARDING CLERK appears at the gate at the head of the line and places a sign on the wall with the flight information.

CAMERA TRACKS WITH YOSEF as he walks over to the line and takes his place behind TOLYA.

CLOSE ON EDUARD – He looks back toward YOSEF with a worried look on his face.
TOLYA turns to YOSEF.

TOLYA (quietly)

Where's Mark? You can't fly a plane without a pilot.

YOSEF glances around.

YOSEF'S POINT OF VIEW - In the large crowd of PASSENGERS, his gaze darts here and there, not finding the person he's searching for.

ANOTHER ANGLE ON YOSEF – CAMERA TRACKS WITH HIM as he runs through the CROWD, against the flow of PASSENGERS, back toward the main lobby of the terminal. PASSENGERS YELL at him for going the wrong way. YOSEF looks this way and that.

MARK stands by a window holding his YOUNGEST DAUGHTER in his arms so she can see the airplanes out the window. His WIFE and OLDER DAUGHTERS stand beside him.

YOSEF sees them and hurries over to the window.

YOSEF (panicked)

What are you doing eating? The plane is boarding already! Do you want to be a free man or would you rather look at the view?

MARK looks at his watch.

MARK

Scheduled boarding time is another fifteen minutes. If they're boarding this early, I don't like the smell of it.

YOSEF

Let's go or you'll jeopardize the whole undertaking!

MARK

Tell the others we're on the way.

CUT TO:

INT. CORRIDOR LEADING TO THE BOARDING AREA

YOSEF sprints back toward the boarding gate. This time he runs into PASSENGERS disembarking from an arriving plane.

CAMERA TRACKS WITH YOSEF as he pushes through the CROWD. In the background, there is a COMMOTION with SCREAMS and SHOUTING, and a crowd of POLICEMEN and SOLDIERS APPEAR IN THE SHAKEY FRAME.

PASSENGER (excitedly)

Soldiers are beating people with clubs!

Suddenly, YOSEF is tackled from behind.

YOSEF hits the floor. His glasses fly off his face.

A POLICEMAN kneels over YOSEF. He twists his arm behind his back.

POLICEMAN

You are under arrest!

TWO POLICEMEN drag YOSEF to his feet. A THIRD POLICEMAN ties his hands tightly together with a laundry cord. Without his glasses, YOSEF gazes around.

WHAT HE SEES – POLICE and SOLDIERS are everywhere. POLICE DOGS pull at their leashes as POLICEMEN lead SYLVA, YISRAEL, ZEV, EDUARD, BORIS, and TOYLA away from the boarding gate, their hands cuffed behind them. From another direction, a woman's SCREAMS and we hear SHOTS. YOSEF looks.

Across the way, MARK raises his hands to his blood spattered face. He collapses to the floor. Beside him, his WIFE and TWO DAUGHTERS are SCREAMING.
KGB
iStock
CAMERA TRACKS WITH YOSEF as POLICE and SOLDIERS escort him forcefully across the corridor. Two lines of POLICEMEN form a passageway leading toward a closed door. A POLICEMAN rips the backpack off YOSEF'S back.

INT. SMALL ROOM

It is a make-shift interrogation room at the airport. It is crowded with high-ranking OFFICIALS and KGB INVESTIGATORS. YOSEF is shoved down onto a chair. An INVESTIGATOR holds out a paper before him.

INVESTIGATOR

Your arrest warrant. Read it and sign!

YOSEF takes the paper in his bound hands.


INVESTIGATOR

Read it to him as well.

He hands the paper to a UNIFORMED OFFICER.

OFFICER (reading)

In adherence to the rules of the district prosecutor's office and the laws of the state, and according to the report of the operations branch of the Soviet security services, a group of Jewish terrorists has plotted to betray the motherland by hijacking a Soviet aircraft and fleeing to the military state of Israel…

CLOSE-UP ON YOSEF – not betraying any expression.

OFFICER (VOICE OVER)

… violating Article 15-64 of the criminal code. Therefore, the district prosecutor's office orders the arrest and interrogation of the members of this criminal movement, with the recommendation that they be sentenced to death.

YOSEF flinches. For a moment, he looks afraid. In his eyes, we can almost see the brooding thoughts in his mind. Then he looks down at the document to read it himself.

INVESTIGATOR

We know everything, and we are going to know even more after your partners break down and become witnesses for the state.

YOSEF continues to study the document.

INVESTIGATOR (VOICE OVER)

You've had enough time to read it. Sign the document.

YOSEF holds up his bound hands.

INVESTIGATOR (VOICE OVER)

Untie his hands!

A POLICEMAN steps forward and unties the tight cord which leaves a red mark on YOSEF'S arms. YOSEF rubs his sore wrists. The OFFICER holds out a pen.

INVESTIGATOR (VOICE OVER)

What are you waiting for?

YOSEF

I won't sign it. It's a big fabrication.

INVESTIGATOR

Perhaps the severity of your actions hasn't sunk in. Very well. Jews are stubborn, I know. But we have time. I'm sure at KGB interrogations, you'll sing a different tune. There, you'll tell us everything.

CUT TO:

EXT. AIRPORT ENTRANCE

Once again, YOSEF'S hands are tied with cord. Surrounded by a squadron of POLICEMEN, secret service AGENTS, and SOLDIERS with automatic rifles, he is whisk toward a waiting KGB vehicle. SECURITY and MILITARY PERSONEL are everywhere.

YOSEF looks down the road.

WHAT HE SEES – A SQUAD of POLICE push YISRAEL toward a car. Before getting in, YISRAEL holds up his bound hands in a symbol of victory. A broad smile fills his face.

CLOSE-UP ON YOSEF – He smiles too.

CUT TO:

INT. CAR.

YOSEF sits in the back seat between TWO KGB AGENTS. He gazes out the window.

OSEF'S POINT OF VIEW – On the street, there are trees, a blue sky, PEOPLE going to work, a MOTHER pushing a baby carriage.

CLOSE-UP ON YOSEF – He gazes at the outside world in deep contemplation, as if wondering if he will ever again see these simple, everyday images.

IN SLOW MOTION, the CAMERA MOVES BY THE MOTHER AND BABY CARRIAGE.
CLOSE-UP ON YOSEF – deep in thought, staring out the window.

KGB AGENT'S VOICE

Take a good look. You won't be seeing mothers with baby carriages where you're going.

ON YOSEF PINNED BETWEEN THE TWO AGENTS – The AGENTS enjoy a good LAUGH. YOSEF almost smiles with them. He looks strangely content.
Ukraine, Russia
iStock