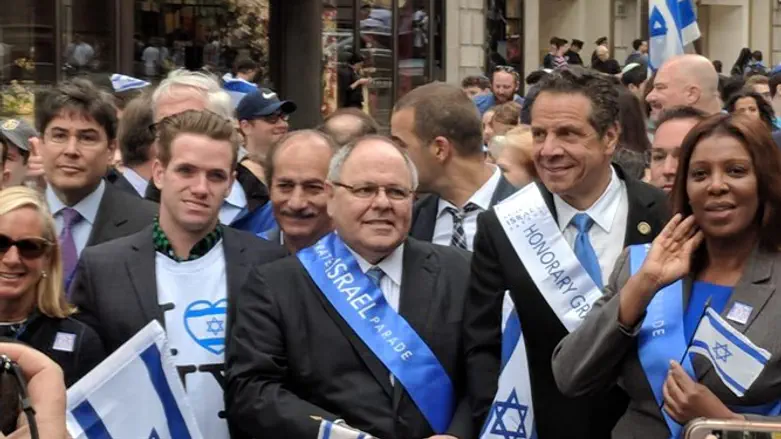 Danny Dayan at Salute to Israel Parade
New York Consulate General
The annual 'Celebrate Israel' parade, attracts tens of thousands of marchers and many senior officials every year, will be held in a 'virtual' format this year in light of the coronavirus pandemic.
The colorful floats will be replaced by computer screens and the various groups of marchers will instead participate via ZOOM.
The virtual parade will be held this coming Sunday, June 7, and will be attended by Israeli President Reuben Rivlin, New York Governor Andrew Cuomo, New York Mayor Bill de Blasio, Consul General, Danny Dayan; Basketball player Omri Caspi, and more.
Israeli Consul General in New York Danny Dayan noted: "Among the parties trying unsuccessfully to separate the State of Israel from New York and its Jewish people this year was the coronavirus, but it also failed in that mission. The parade will go virtual, but the love for the State of Israel will also be real this year. Every year, the day of the parade is one of the most exciting days for an Israeli staying in New York. This year will be no different."
The "Celebrate Israel Parade" is the world's largest public event to support Israel. The parade has been held annually on Fifth Avenue in New York since 1964. Representatives and marchers come from the New York metropolitan area, as well as from other parts of the United States.
צפו: יהודים מוחאים כפיים לשוטרי NYPD בדרכם לפזר מהומותזה מה שקרה כשכוחות המשטרה של ניו יורק עברו ליד המרכז העולמי של חב"ד בקראון הייטס בדרך לטיפול במחאה המתפשטת בארה"ב.ערוץ 7 חדשות, פוליטיקה, תרבות, יהדות ועוד
דירה חדשה מקבלן בלי הצמדה למדד? ככה עושים את זהReal-Invest מגזין השקעות ונדל"ן|
830 אלף ש"ח הון עצמי: חנות אחרונה בפארק הורוביץ ברחובותReal Invest השקעות|
מתחם המשרדים החדש של הוד השרון יוצא לדרך – החל ב-199 אלף שקלReal Invest השקעות|
דאגה אחת פחות. טיפ עסקי שיחסוך לכם עד עשרות אלפי שקלים בעסקכביש 6 חוצה צפון|
אנרג'י פארק חדרה: "תוך 3-4 שנים המשקיעים יעשו כאן רווח גבוה ומהיר"Real Invest השקעות|
130 בני אדם טוענים: "אנו ילדיו של ג'פרי אפשטיין"ערוץ 7 חדשות, פוליטיקה, תרבות, יהדות ועוד
הוידוי האישי של הרבנית מבעלזערוץ 7 חדשות, פוליטיקה, תרבות, יהדות ועוד
תביעת הביטוח הסיעודי שלכם נדחתה? אל תרימו ידייםמגזין דין וחשבון|
חפציו של החייל נחשון וקסמן נמכרו בשוק הפשפשיםמדובר על תמונות של נחשון וקסמן עם בני משפחתו, מגני הוקרה שמשפחתו קיבלה לזכרו ותמונה שלו על רקע רכב צבאי.Channel 7 News, Politics, Culture, Judaism and more
Headlines today
Forums
מבצעים לגולשי ערוץ 7
מתכונים