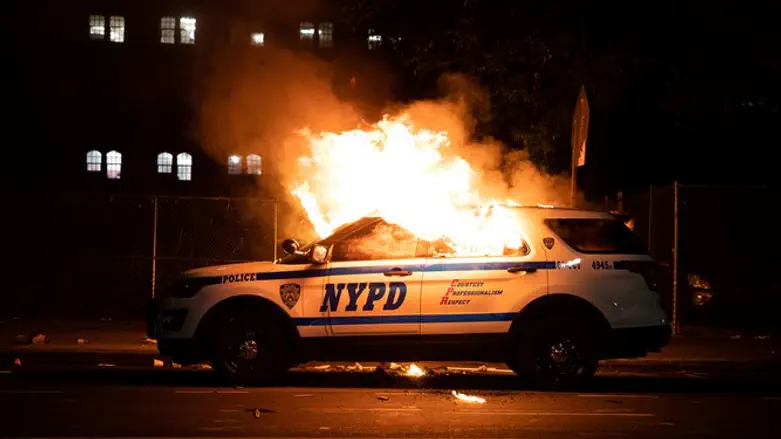 NYPD vehicle torched during riots in New York
REUTERS
At least 11 people are dead and thousands more injured as riots continued for the seventh straight day across the US, following the death of a Minneapolis man as he was being detained by local police.
Protests were organized in more than 200 cities across the US following the death last Monday of 46-year-old George Floyd in Minneapolis.
But the protests, many of which were initially peaceful, quickly degenerated into riots, looting, arson, and in some cases shooting attacks.
Rioting spread to at least 140 cities across the US, leading 40 cities to impose curfews. New York City, too, announced an 11 p.m. to 5 a.m. curfew Monday evening, as riots and looting spread to Lower Manhattan.
Twenty-three states and the District of Columbia have activated National Guard forces to help restore order, as the death toll continued to climb Monday.
As of Monday night, eleven deaths have been linked to the riots, which in some cases have included shooting attacks.
In Oakland, California, for instance, two Federal Protective Service officers were shot last Friday night as they stood guard near a riot outside of a federal courthouse. One of the officers, Patrick Underwood, was killed in the drive-by shooting, while a second officer was wounded.
The Department of Homeland Security confirmed the drive-by shooting was linked to the rioting, and called the attack "an outright assault on our law enforcement community."
During a riot late Sunday night and early Monday morning in Davenport, Iowa, more than 20 shots were fired during a riot near the NorthPark Mall, Police Chief Paul Sikorski told reporters.
Four people were shot, including three civilians and a local police officer.
Two of the victims were fatally wounded in the shooting. The police officer was wounded.
Sikorski described the shooting attack as an "ambush" on police officers.
In Louisville, Kentucky, one man was shot and killed during a riot early Monday morning, just after 12:15 a.m..
Police and National Guard members opened fire after being shot at by armed rioters, authorities said.
"Officers and soldiers began to clear the lot and at some point were shot at," Louisville Metro Police Chief Steve Conrad said in a statement. "Both LMPD and National Guard members returned fire, we have one man dead at scene"
No information regarding the identity of the person killed has been released, nor have authorities declared whether the person was killed by shots fired from a gunman in the crowd, or the return fire by officers and National Guard members.
Two autopsies – one conducted on behalf of Floyd's family – concluded Monday that Floyd's death was a homicide, though the two differed on the details.
Derek Chauvin, the policeman videotaped pressing down on Floyd's neck during the incident last Monday, was arrested and charged with third-degree murder, Minneapolis authorities reported over the weekend.
President Trump on Monday denounced the riots as "acts of domestic terrorism", and vowed to mobilize "all available federal resources, civilian and military" to crackdown on the mob violence.
Speaking at the Rose Garden, Trump declared himself "your president of law and order", stressing he was committed to upholding laws and mobilizing military resources to end nationwide looting.
"My first and highest duty as president is to defend our great country and the American people," Trump said. "I swore an oath to uphold the laws of our nation and that is exactly what I will do."