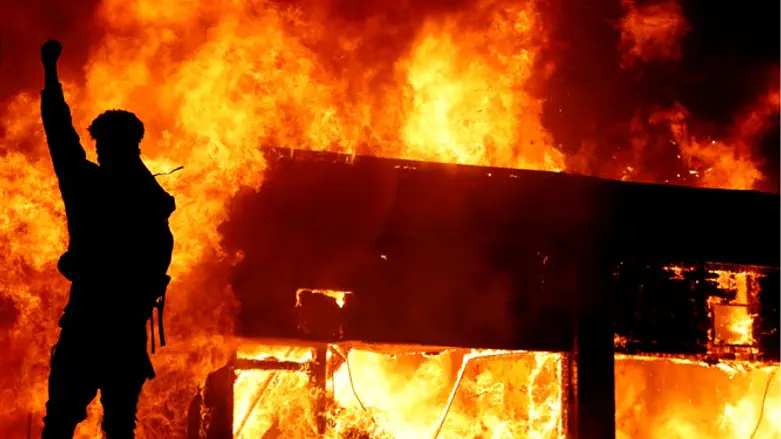 Rioting following death of George Floyd in Minneapolis
REUTERS
Cities across the US imposed curfews over the weekend in an effort to curb growing violence by rioters following the death of an African American man in Minneapolis.
Last Monday, 46-year-old George Floyd died in Minneapolis, after being detained by police following complaints of an attempt to pass off forged twenty dollar bills at a store.
Police claimed Floyd "appeared to be under the influence" at the time, and "physically resisted" arrest.
Video of the incident was later revealed, however, showing Floyd pinned to the ground, with a police officer's knee pressing down against his neck for more than eight minutes, during which time Floyd said he could not breathe, before becoming unresponsive.
After an initial wave of peaceful protests against police brutality, rioting began in Minneapolis, before spreading to major urban areas across the US.
While the four officers involved in the incident were quickly fired from the Minneapolis police department, and the officer who pinned Floyd charged with third-degree murder and manslaughter, mass arsons, rioting, and violent attacks on police surged over the weekend in a number of metropolitan areas.
"We are under assault," Minnesota Governor Tim Walz (Democrat-Farmer-Labor) said at a press briefing Saturday. "Order needs to be restored."
A number of cities imposed curfews, including Louisville, Portland, Atlanta, Los Angeles, Denver, and Cincinnati.
The Pentagon said it has placed army units on a four-hour alert, ensuring they are prepared to intervene if Minnesota Governor Tim Walz's requests assistance in handling the riots.
National Guards forces have also been mobilized in Ohio, Missouri, Tennessee, and Wisconsin.