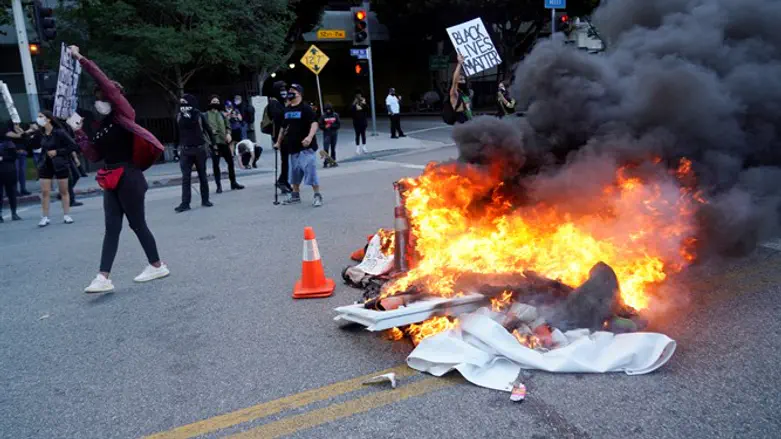 Riots in Los Angeles, California
REUTERS/Kyle Grillot
Deputy Minister of Public Security, MK Gadi Yavarkan (Blue and White) reacted to the violent riots that have followed the death of George Floyd, an African American Minneapolis man choked by a police officer with a history of violence.
In his Facebook post, Yavarkan alluded to the incident, stating that he "couldn't get [his] mind off the event."
"This was one of the most racist, cruel and horrific incidents in my memory. It proves again that racism can kill. Watching footage of what took place proves that Floyd was executed in broad daylight," he said.
"Floyd's alleged murder at the hands of a police officer has ignited tensions in the United States and the ongoing [violence] expresses the justified fury of the American people, who are unwilling to remain quiet," he continued.
"Police violence against African Americans takes place in many countries around the world and can be seen even in a progressive society like the US, where a black president broke the glass ceiling to become the most powerful person in the world. The race gap highlights how relevant today's struggle is and how much work we have ahead of us in training police officers, creating corrective procedures, effective internal assessment procedures, and enforcement of these. In Israel, we also have plenty of work to be done."
The deputy minister noted, "Police officers have to realize that they wield a great amount of authority and must use it proportionally in accordance with the law, logic and ethical guidelines."
Regarding the role of Israeli police in the sphere of internal security, Yavarakan said it was "accountable for ensuring the safety of Israel's citizen and that it performed its job well in a number of spheres, including life-saving operations. He said that despite all this, racism existed in Israeli society and that while "White" Israelis felt safe in the presence of police, "Black" Israelis experienced a justifiable sense of fear.
"I extend my condolences to the family of George Floyd, and offer support for to the United States for indicting the racist police officer for murder –not manslaughter," he concluded his post.
Minneapolis authorities reported over the weekend that they had indicted Derek Chauvin, the police officer videotaped pressing his knee into the neck of an African American man arrested on suspicion of using a counterfeit $20 bill on third-degree murder charges.
US media outlets reported that in his 19 years with the police force, Chauvin had 18 previous complaints filed against him.
Prosecuting attorneys alleged that Chauvin had his knee on Floyd's neck for a total of 8 minutes and 46 seconds; 2 minutes and 53 seconds of these after Floyd had already gone numb.
Violent riots have spread across the country. A nighttime a curfew was issued in Denver, Colorado as demonstrations in the city entered a third day.
Mayor Michael Hancock said Saturday that the Colorado National Guard will help enforce the 8:00 p.m. to 5:00 a.m. curfew.
Downtown Denver witnessed bloody clashes between protesters and police over the past two nights. Some protesters broke windows and police fired tear gas, flash grenades and pepper pellets at rioters.
Other states to have called in the National Guard are Minnesota, Georgia, Ohio, Wisconsin, Kentucky and Utah.