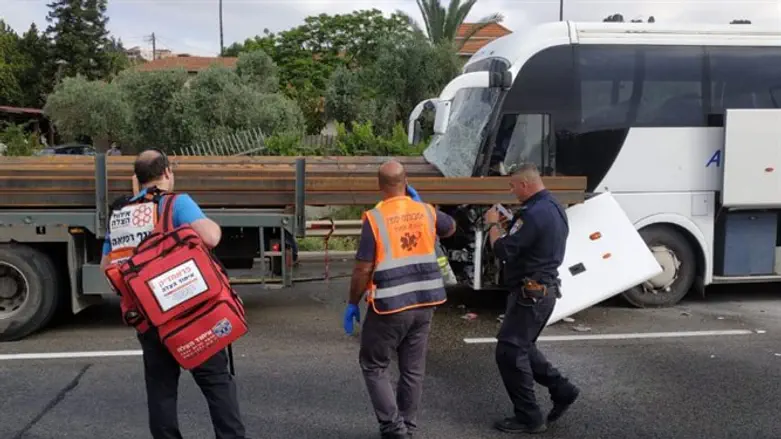 United Hatzalah paramedics at the scene of the accident
United Hatzalah
A bus driver in his 40s was killed Wednesday morning in a collision with a truck, at the Ar'ara Junction on Route 65 in Wadi Ara.
The crash, which took place outside Umm al-Fahm, occurred when the empty bus crashed into the back end of the truck. Magen David Adom (MDA) and United Hatzalah paramedics were forced to declare the bus driver's death at the scene of the accident.
The area was closed off and Israel Police are investigating the incident.
Magen David Adom paramedic Omer Dayif said: "This was a serious front-to-rear collision. The bus driver was trapped in his seat, unconscious and suffering very serious injuries to multiple bodily systems. We conducted a medical examination. He had no signs of life and we had no choice but to declare his death."
United Hatzalah volunteer paramedic Elad Becher who was one of the first responders at the scene relayed: "The accident took place between a large van, two trucks and a bus. Firefighters worked tirelessly to extract the bus driver from the wreckage, however, he was pronounced dead at the scene of the accident due to the severity of the injuries that he suffered. Additionally, together with other EMS personnel I treated three other people at the scene who were all lightly injured."