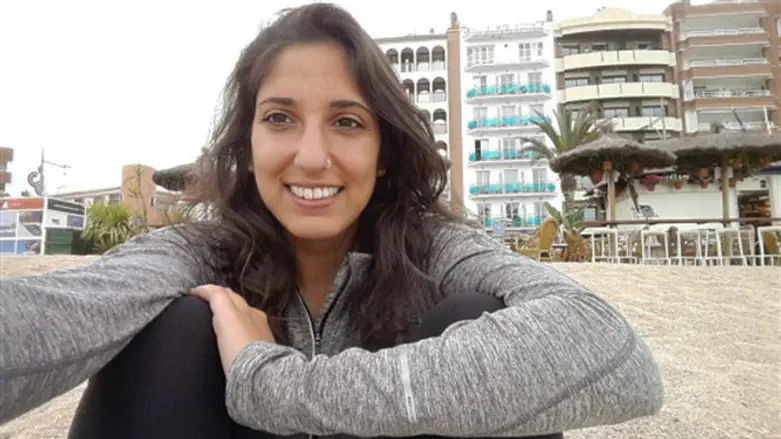 Naama Issachar
Courtesy of the family
Yaffa Issachar, the mother of Naama Issachar, who was sentenced Friday to 7.5 years in a Russian prison, said she begged Israeli Prime Minister Binyamin Netanyahu to help her daughter.
Issachar, who has been imprisoned in Russia for over six months, was arrested at a Moscow airport after she was found to have nine grams of marijuana in her bag. At the time of her arrest, she was on her way back to Israel from India, and had stopped in Moscow to catch her connecting flight.
According to Yaffa Issachar, Netanyahu "said he was sorry about the heavy punishment Russia gave Naama."
"I begged him to help me, he's the only one who can do something, I don't have anyone else to turn to. I don't know how we'll get over this, I don't know what will happen if things pass to the Americans. Even though I'm American and Naama is also American, it's easier for me to deal with the State of Israel than with the US. You see the embrace and the great love we're receiving here, from the media, from the government, from the people. That won't happen if it gets passed to the US."
On Friday, Netanyahu spoke with Yaffa Issachar about her daughter's sentence, expressing sorrow at the sentence she was handed and emphasizing his efforts to bring Naama home.
In addition to the efforts to obtain Naama's release, Netanyahu has also asked that the conditions of her confinement be bettered.
Netanyahu "has personally acted regarding Naama Issachar in recent weeks. The Prime Minister discussed this issue with Russian President Vladimir Putin during his 12 September visit to Sochi and raised the issue again in their telephone conversation earlier this week," a statement from the PM's office said.
"Also, the authorities in Israel have been active regarding Issachar throughout her detention. Israel has delivered a clear message: The punishment being demanded by the Russian prosecutor is disproportionate and does not fit the nature of the offense being attributed to Issachar."
The US has not yet issued an official response to Issachar's sentence.
Dan Shapiro, a former US Ambassador to Israel, tweeted that: "I know little about this case other than what is reported here, but the Russians' cruelty here is appalling. They should not treat Naama Issachar as a bargaining chip in an unrelated case."