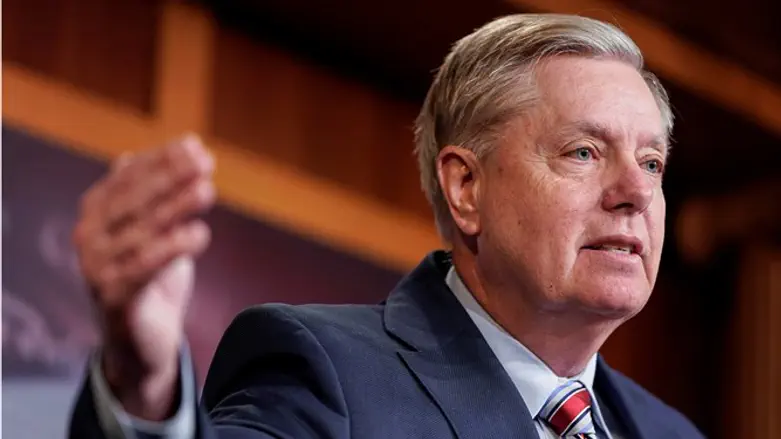 Lindsey Graham
Reuters
Senator Lindsey Graham (R-SC) on Monday expressed opposition to US President Donald Trump's sudden decision to pull back US troops from northern Syria, warning such a move would be a "nightmare for Israel".
"I don't believe it is a good idea to outsource the fight against ISIS to Russia, Iran, and Turkey. They don't have America's best interests at heart," tweeted Graham.
"The most probable outcome of this impulsive decision is to ensure Iran's domination of Syria. The US now has no leverage and Syria will eventually become a nightmare for Israel," he added.
"I feel very bad for the Americans and allies who have sacrificed to destroy the ISIS Caliphate because this decision virtually reassures the reemergence of ISIS. So sad. So dangerous. President Trump may be tired of fighting radical Islam. They are NOT tired of fighting us," continued Graham.
"Finally," wrote Graham, "this decision makes it difficult for the U.S. to recruit allies against radical Islam. By abandoning the Kurds we have sent the most dangerous signal possible – America is an unreliable ally and it's just a matter of time before China, Russia, Iran, and North Korea act out in dangerous ways."
Graham's comments came after the White House announced late Sunday night that the US will pull back its forces from parts of northern Syria, opening the door for a major operation by the Turkish military in Syrian territory.
Trump on Monday defended his administration's plans to withdraw US forces from northern Syria and permit Turkey to operate in the area, signaling that America's role in Syria may be coming to an end.
In a series of tweets, the president said it was "time for us to get out of these ridiculous endless wars", adding that it would be up to other countries, including Turkey, Russia, Iraq, and Iran to "figure the situation out".
Trump unexpectedly announced in December that he was immediately withdrawing troops from Syria. Trump had initially called for a 30-day timeframe to complete the pullout, but later agreed to delay completion of the withdrawal following a discussion with Graham.
Graham is a longtime supporter for Israel and is one of several US senators who have called for an increase in the military aid the United States provides to Israel.
Meanwhile on Monday, another Republican lawmaker, Senate Majority Leader Mitch McConnell (R-KY), also criticized Trump's decision on Syria, arguing that it "would only benefit Russia, Iran, and the Assad regime".