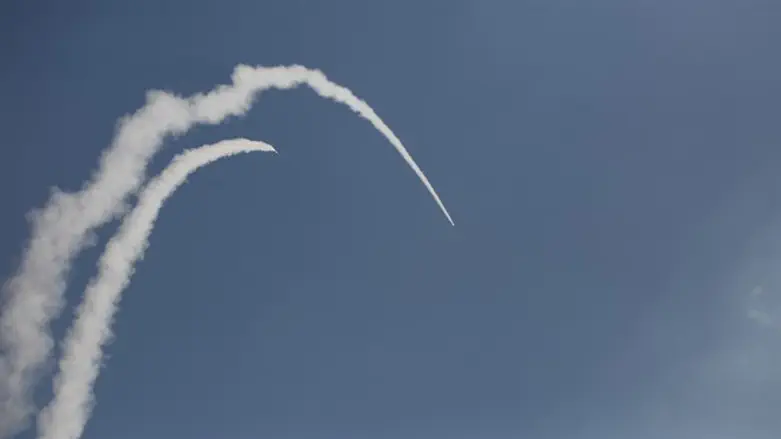 Rockets
Yaakov Naumi/Flash 90
Two projectiles were launched Saturday from Syria towards Mount Hermon, the IDF reported.
The IDF is investigating, but believes that the missiles were intentionally aimed at Israel, since there has been no fighting on the Syrian side of the border.
Initially it was believed that one of the missiles may have landed in Israeli territory, while the other landed in Syria. Later, it was confirmed that both landed in the IDF military zone near Mount Hermon.
No injuries were reported.
According to Ynet, a security source confirmed that the missiles had not been shot down. Ron Ben-Yishai, the site's security analyst, said the missiles appear to have been fired from a distance of approximately 35 kilometers (21.7 miles), which may mean they were purposely fired by Iranian terror groups in order to provoke Israel. Other options, Ben-Yishai wrote, include the possibility that Syrian President Bashar al-Assad's army fired the missiles in retaliation for an Israeli strike last week, and that the Hezbollah terror group used locals to fire the missiles in honor of Jerusalem Day.
Channel 20 quoted a statement from the Golan Regional Council: "At 8:46p.m. we received a report from the IDF spokesperson regarding two missiles fired from the direction of Syria and towards the Hermon. One of the rockets fell in Syrian territory and the other [fell] in an open area. We are in continuous contact with the army and all security sources. There are no special instructions."
On Monday, the IDF confirmed that it had launched an airstrike targeting a Syrian missile launcher following an attack on an Israeli aircraft. The missile did not strike the plane and landed in Syria.