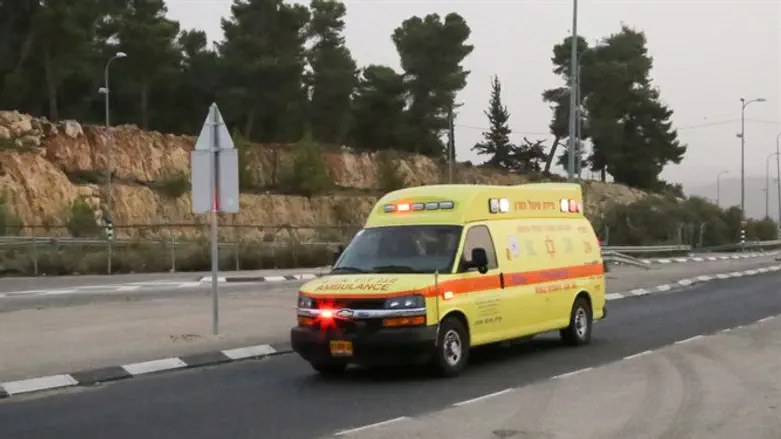 Magen David Adom Ambulance (illustration)
Gershon Elinson/Flash90
A fundraising event this coming Sunday for Magen David Adom, Israel's national emergency medical services (EMS) organization, has been targeted for a protest by a group designated by the Southern Poverty Law Center as an active Holocaust-denial hate group.
The targeting of Magen David Adom by the self-proclaimed "pro-Palestinian group" is particularly ironic because the EMS organization routinely treats Palestinian Arabs in medical emergencies in Judea and Samaria and organizes transfers of critically ill Arabs from Gaza to better-equipped Israeli hospitals. Some of these transfers, in fact, were conducted while Gaza-based terror organizations were shelling the Erez Crossing, where the transfers took place, endangering the lives both of the MDA paramedics and the Palestinian Arab patients.
"On countless occasions, Magen David Adom EMTs have risked their lives to save Palestinians — just as they value all lives," said David M. Frankel, chief executive officer for American Friends of Magen David Adom, the event's organizer. "So planning a protest for a fundraising event for an EMS organization is very telling about the nature of the group's ideology."
MDA also works cooperatively with the Palestinian Red Crescent and periodically conducts joint training drills with the PRC and with the Jordanian Red Crescent to prepare to respond to potential natural disasters in the region.
The fundraising event is being held Sunday at Congregation Beth Shalom in Teaneck. The protest, by a group called Remember Deir Yassin, also raises the specter that, in the aftermath of fatal anti-Semitic attacks against Jewish religious institutions in Pittsburgh and Poway, California, a recognized hate group would target a synagogue for a demonstration.
"The best way to counter this protest is to not be cowed and show our support for MDA — and Israel — and show up," Frankel said. "Hate groups won't succeed if they see their methods are counterproductive."
In addition to its work in Israel, MDA has been instrumental in responding to international disasters, including the 2010 earthquake in Haiti, as well as the 2015 Nepal earthquake. MDA has also assisted with natural disasters in the United States, as recently as in the aftermath of Hurricane Harvey in 2018.