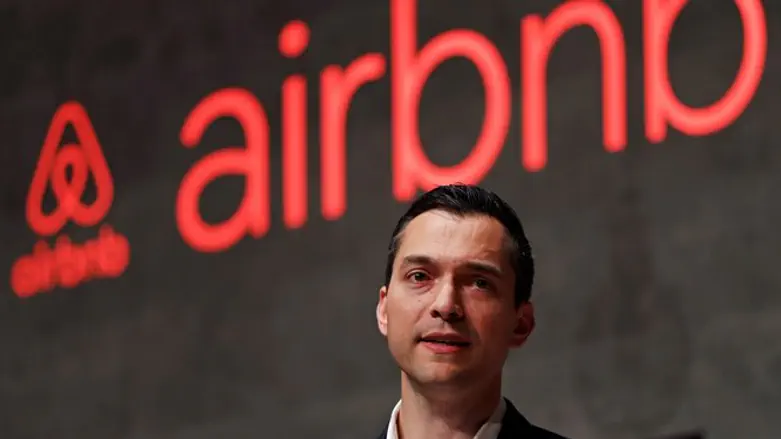 Airbnb co-founder and chief strategy officer Nathan Blecharczyk
REUTERS
Anti-Israel activists have called on backers to boycott the Airbnb lodging marketplace, after the company backed off plans to blacklist lodgings in Israeli towns in Judea and Samaria.
A slew of anti-Israel groups backing a boycott of the Jewish state have called on supporters to suspend their accounts on Airbnb in protest of the company's decision not to purge its registry of listings in Jewish towns in Judea and Samaria.
The far-left Jewish Voice for Peace and the Palestine Institute for Public Diplomacy both urged supporters to boycott Airbnb, AFP reported Wednesday.
"Ultimately we would like Airbnb to reverse its decision but we know that won't be easy," Salem Barahmeh, executive director of PIPD, said in an interview with AFP.
"But I think what we ultimately want to do is end this culture of impunity where international companies are allowed to be complicit in supporting war crimes and Israeli settlements that have been responsible for displacing Palestinians."
The San Francisco-based company caused an uproar last year when it decided to purge listings of lodgings in Jewish communities in Judea and Samaria.
In addition to the lawsuit by the group of Jewish Americans, several states took action against Airbnb following the move.
In Florida, Governor Ron DeSantis agreed to place Airbnb on the state's scrutinized companies list which prohibits state investment in companies that boycott Israel.
Texas similarly prohibited investment in Airbnb, placing the company on the state comptroller's "list of companies that boycott Israel pursuant to Chapter 808 of the Texas government code," which prohibits investment in companies that boycott Israel.
In addition, an independent board in Illinois voted to notify Airbnb that it is violating state laws barring the economic boycott of Israel, making Illinois the first state to take firm action against the online lodging company.
Last month, in the wake of the class action lawsuit against the planned blacklisting, Airbnb announced that it would not be implementing the planned delisting of lodgings in Israeli settlements.
The company also denounced the Boycott, Divestment, and Sanctions movement (BDS), which had pushed for the blacklisting.
"Airbnb has always opposed the BDS movement. Airbnb has never boycotted Israel, Israeli businesses, or the more than 20,000 Israeli hosts who are active on the Airbnb platform," the statement stressed. "We have always sought to bring people together and will continue to work with our community to achieve this goal."