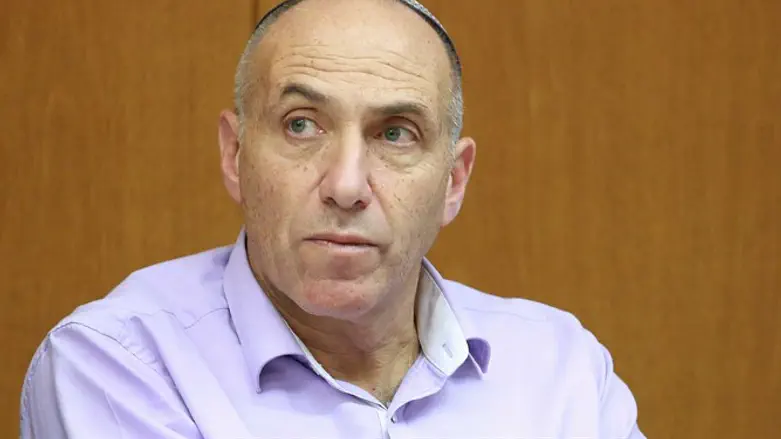 Moti Yogev
Hiller Meir/TPS
Could Israel's small right-wing parties form a joint ticket for this year's election?
Despite talks between the National Union faction and the Otzma Yehudit party hitting a dead-end Monday, a Jewish Home MK expressed optimism that the right could form a united ticket ahead of the February 21st deadline.
Speaking at the Feuerstein Institute in Jerusalem on Monday, MK Moti Yogev (Jewish Home), said his party could still form a joint ticket with Otzma, despite the deadlock between Otzma and the Jewish Home's ally, the National Union.
"It could happen," said Yogev. "I hope we settle the matter quickly."
Yogev at Feuerstein Institute on Monday
צילום: דוברות
The Jewish Home and National Union ran together in 2013 and 2015, and despite an earlier break-down in talks, have made progress towards reaching an agreement for this year's election.
Following former Jewish Home chief Naftali Bennett, however, the future of the party is uncertain, even if it renews its alliance with the National Union. Some polls show the ticket failing to cross the threshold, leaving the Jewish Home – a rebranded version of the old National Religious Party – out of the Knesset for the first time ever.
That fear has prompted some in the party to seek a technical bloc with smaller right-wing parties including both Otzma, and former Interior Minister Eli Yishai's Yahad party
During his address at the Feuerstein Institute on Monday, Yogev also discussed Education Minister Naftali Bennett's decision to leave the party and form a new faction, the New Right.
"Bennett didn't share the Jewish Home's ideology, and didn't want to be constricted by the needs of the religious Zionist community. It is more important for him that he becomes Prime Minister. Religious Zionism wants to influence the direction of the country. He wasn't loyal to the [religious Zionist] community or to the people, he was looking for rising stars. I wish him success."