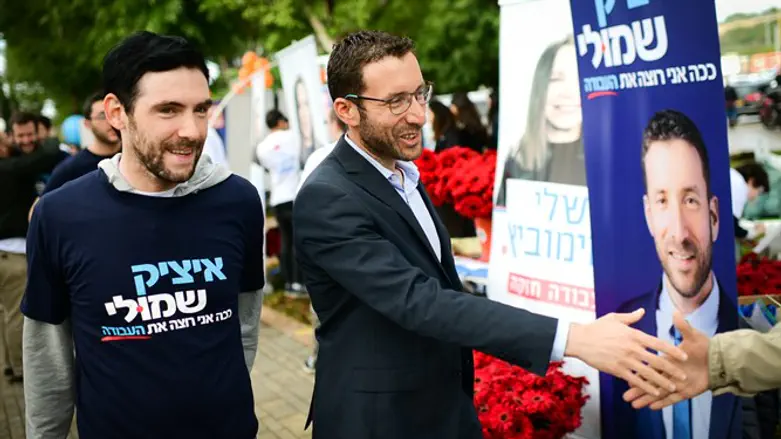 Itzik Shmuli
Tomer Neuberg/Flash 90
MKs Itzik Shmuli, Stav Shafir, Shelly Yechimovich and Amir Peretz were placed in the first four spots in the Labor primaries that took place on Monday.
33,690 members of the Labor party chose the party's list for the 21st Knesset. The voter turnout was 56.4%.
The results of the primaries are as follows:
1. Avi Gabbay
2. Reserved for candidate of chairman's choice
3. Itzik Shmuli
4. Stav Shafir
5. Shelly Yechimovich
6. Amir Peretz
7. Merav Michaeli
8. Omer Barlev
9. Revital Swid
10. Reserved for candidate of chairman's choice
11. Eran Hermoni (Secretary-General)
12. Ya-Ya Fink
13. Michal Biran
14. Gavri Bargil
15. Eitan Cabel
MK Itzik Shmuli thanked the Labor party's voters for electing him to the top spot, saying, "I am very excited and thank the thousands of members of the Labor party for their great trust in me today."
"The Labor party presents the public with the highest quality and most diverse team that, starting tomorrow morning, will run forward together without fear, so that the party that established the state will storm its leadership again. Thank you!" added Shmuli.
MK Shelly Yechimovich, who finished third in the Labor party primaries, told Reshet Bet, "The Histadrut chairman worked against me with all his might, but the number of voters balanced it out. I am very pleased. I was afraid that my situation would be much worse. The free public spoke out against all the deals."
"Eitan Cabel is missing and I will do everything to make Eitan's spot a realistic one," she added.
MK Betzalel Smotrich (National Union) responded to the results of the primaries and said that "the Labor party elected Meretz 2, the original is preferable."