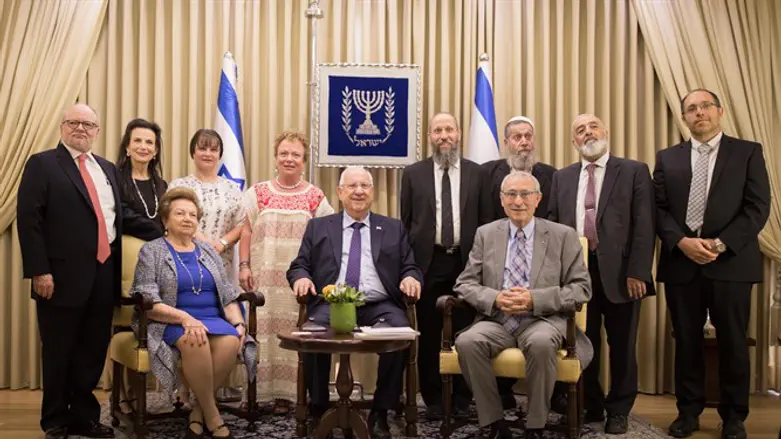 The Katz Family with the 2018 prize winners at President's house
Kobi Gideon, GPO
The Marcus Katz Foundation is currently publishing a call for proposals for candidates for the Katz Prize for 2019.
The Marcus Katz Prize is awarded to people and institutions working to make halacha, or Jewish traditional law, accessible in all aspects of contemporary life, whether in work, meditation or in institutes and practical enterprises.
Four winners will be chosen by a judging committee headed by the Governor of the Hebrew University, Prof. Menachem Ben-Sasson, Rabbi Shlomo Deichovsky, Rabbi Chaim Sabato and Rabbi Aryeh Stern.
The prizes awarded to the winners will be $ 25,000 each at an award ceremony scheduled to take place in Jerusalem at the end of this summer.
Last year, prizes were awarded to three rabbis and an institute.
The winners were, Rabbi Yehuda Herzl Henkin, for his work to empower the woman in the world of Torah and religious life, and his answers and rulings in this field are highly appreciated by the public in general and women in particular. Together with his wife, he founded the Nishmat Midreshet and the "Yochat Halacha" Institute.
The other winners included Rabbi Asher Weiss, the Rabbi of Sha'arei Tzedek Hospital, who deals extensively with questions and halakhot in the field of contemporary medicine; and Rabbi Yosef Tzvi Rimon, for his extensive activity in the teaching of Halachah and its accessibility in a variety of fields, such as the laws of the army, Shemitah, science, and the charitable activities he established.
The Institute for the Study of Jewish Law was also awarded the prize last year for its contribution to strengthening the status of Jewish law in Israeli law in various ways, for assisting in the restoration of judgment in monetary law to rabbinical courts.
The Mordechai David (Marcus) Katz Memorial Prize, was established in memory of Marcus Katz, a Holocaust survivor, Zionist and multi-action businessman in Mexico and Israel who supported Jewish education around the globe.