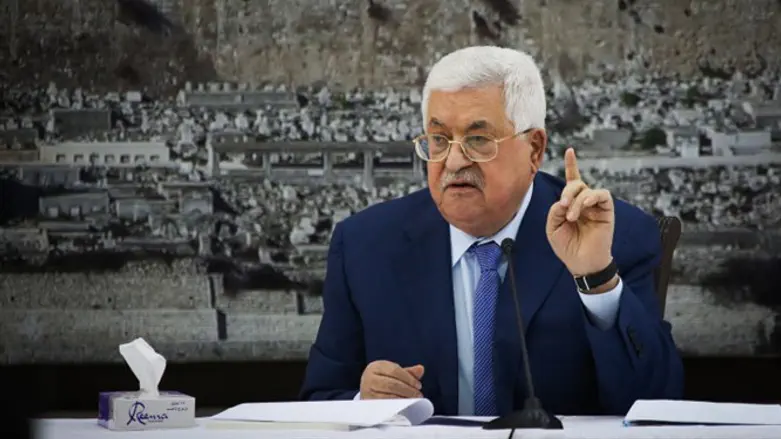 PA chief Mahmoud Abbas
Flash90
An American citizen was sentenced to life in prison by a Palestinian Authority court Monday for involvement in the sale of Arab-owned real estate to Jews.
On Monday, the Grand Criminal Court in Ramallah sentenced Isaam Akel, an Arab American who also holds an Israeli identification card, to life imprisonment with hard labor, the PA's WAFA media outlet reported.
According to the report, Akel had been brought before the court on December 23rd after being indicted for the "sale of land to a foreign country".
A US government official responded to the report, saying that the US was aware of the sentence, and would provide "consular assistance".
"We are aware of reports that a U.S. citizen has been sentenced by a Palestinian court. When a U.S. citizen is incarcerated abroad, the U.S. government works to provide all appropriate consular assistance."
Akel disappeared in October, after the Palestinian Authority called for his arrest, accusing him of facilitating the sale of Arab-owned property in the Aqaba Darwish section of the Old City of Jerusalem to Jews.
Under PA law, selling of land to Jews is illegal and punishable by death. However, such sentences must be approved by the PA chairman, and current chairman Mahmoud Abbas has preferred to authorize life sentences for such offenses, possibly due to fear of an international backlash.
In 2014, Abbas toughened the PA law against selling property to Israeli Jews, so that any Palestinian Arabs involved in renting, selling or facilitating real estate transactions with citizens of "hostile countries" in any way would receive life imprisonment and hard-labor.
Last month, US Ambassador to Israel David Friedman demanded the Palestinian Authority release Akel.
"The Pal Authority has been holding US citizen Isaam Akel in prison for ~2 months," tweeted, Friedman.
"His suspected 'crime'? Selling land to a Jew. Akel's incarceration is antithetical to the values of the US & to all who advocate the cause of peaceful coexistence. We demand his immediate release."