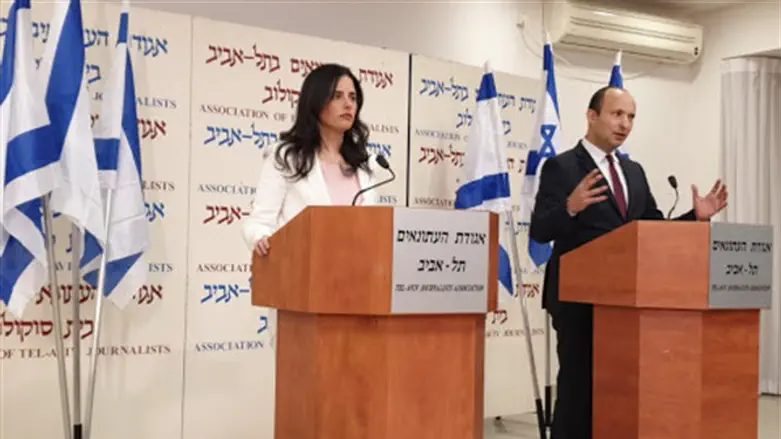 Bennett and Shaked announce formation of new party
Heski Baruch
Education Minister Naftali Bennett and Justice Minister Ayelet Shaked announced in a bombshell move on Saturday night that they will be leaving the Jewish Home to form a new party.
The new party will be called 'HaYemin Hachadash'. or the 'New Right,' bringing to a close Bennett's five years of leading the Jewish Home, which began when he defeated incumbent MK Zevulun Orlev for the post of party head.
Speaking at Beit Sokolov in Tel Aviv, Bennett and Shaked harshly attacked the Likud and said that the "New Right" will be "a true partnership between religious and secular Israelis."
"The Jewish Home has become a very influential force in the State of Israel, but in the last year and even more so in recent months, this era of our great influence has ended," said Bennett. "Prime Minister Netanyahu understood that the wonderful Religious Zionism sits in his pocket, that no matter how often and how much he betrays them, they will stay with him."
Bennett saved special criticism for Prime Minister Netanyahu. "Netanyahu is transferring money in cash to Hamas, "alleged Bennett, calling it "capitulation to a protection racket ". Joining HaYemin Hachadash is Jewish Home MK Shuli Mualem-Rafaeli.
In recent days, Bennett has met with top Religious Zionist leaders, including Rabbis Zalman Melamed and Haim Druckman, in order to recruit support for the dramatic move. The Jewish Home thanked Bennett and Shaked "for 5 years of great work on behalf of the Jewish people, adding that "we believe that success awaits them in the right-wing camp," but told Religious Zionists to vote for the Jewish Home Party.
Jewish Home lawmaker Bezalel Smotrich hinted that he would contend for the Jewish Home's leadership following Bennett and Shaked's departure.
"On the one hand, it was a logical move that Bennett and Shaked left," said Smotrich. "From the moment they entered politics they did not come to lead Religious Zionism. They set a much higher goal for themselves, and it took them time to understand that this would not happen from within this platform."
Smotrich added that the move "comes as a surprise to me, I think it was possible to continue working together, I do see religious Zionism advancing to lead Israel".
"I congratulate them, wish them success, and take upon myself the task of consolidating Religious Zionism."
Watch statement: (Hebrew)