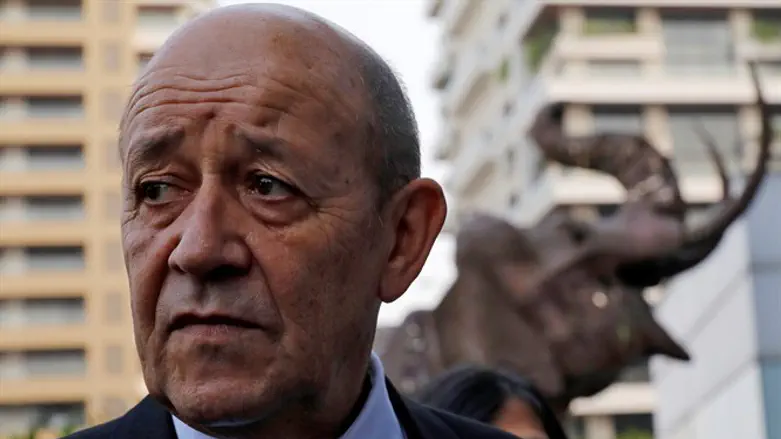 French Foreign Minister Jean-Yves Le Drian
REUTERS
The French government condemned Israel over plans for nearly 2,200 new homes in Israeli towns across Judea and Samaria, calling settlement construction a "violation of international law" and warning the housing projects would undermine the two-state solution.
Earlier this week, Israel's planning council for Judea and Samaria approved 1,113 new housing units, and gave interim approval for another 488 homes in Israeli towns in the area. A day later, additional permits were issued, pushing the total number of homes approved to 2,191.
France issued a formal condemnation of the plans Thursday night, urging Israel to "reconsider" the decision to permit continued construction in the settlements.
"France condemns this decision, which expands settlement activity in the West Bank," the statement read.
"Settlement activity is in violation of international law, as reaffirmed by UN Security Council Resolution 2334. It undermines – on the ground and in people's minds – the conditions for a two-state solution, the only way to ensure a just and lasting peace between Israelis and Palestinians, and heightens tensions."
"We therefore call on the Israeli authorities to reconsider these decisions."
Israel green-lighted the new housing units following a wave of terror attacks in Judea and Samaria in December, including a deadly shooting at Givat Assaf Junction, near Beit north of Jerusalem which left two dead and two wounded.
A few days earlier, terrorists also wounded seven Israelis outside of Ofra, an attack which killed a newborn child delivery shortly after the attack.