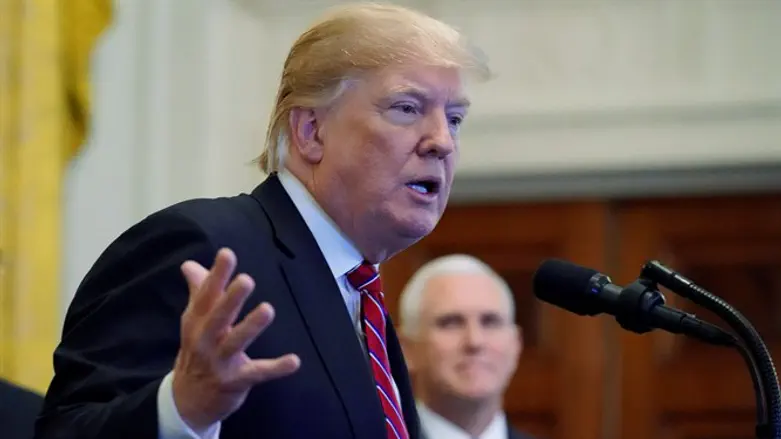 Donald Trump
Reuters
With the US government in a partial shutdown after lawmakers failed to pass a spending bill, President Donald Trump has touted Israel's border fence on the Egyptian frontier as he continues to push congressional Democrats to fund a barrier on America's southern border.
On Saturday, the federal government entered a partial shutdown, resulting in the furloughing of 400,000 employees, while security services, entitlement programs and other 'essential' functions remained unaffected.
While President Trump and congressional Republicans have demanded some $5 billion in funding to beef up border security, Senate Democrats have refused to permit the spending bill passed by the House of Representatives to come up for a vote.
Republicans currently control both chambers of Congress until the new congress is sworn in next Thursday. But the GOP maintains a narrow 51-49 majority in the current Senate, and would need nine Democrats to cross sides and prevent use of the filibuster to block the bill passed by the House.
Late Thursday night, President Trump tweeted a series of posts arguing in favor of a border wall, and pressuring Senate Democrats to permit the spending bill to pass.
"The Democrats OBSTRUCTION of the desperately needed Wall, where they almost all recently agreed it should be built, is exceeded only by their OBSTRUCTION of 350 great people wanting & expecting to come into Government after being delayed for more than two years, a U.S. record!"
"Border Patrol Agents want the Wall. Democrat's say they don't want the Wall (even though they know it is really needed), and they don't want ICE. They don't have much to campaign on, do they? An Open Southern Border and the large scale crime that comes with such stupidity!"
In one of the posts, the president cited Israel's security fence on the border with Egypt as an example of the efficacy of physical barriers in significantly reducing illegal immigration.
"This isn't about the Wall, everybody knows that a Wall will work perfectly (In Israel the Wall works 99.9%). This is only about the Dems not letting Donald Trump & the Republicans have a win. They may have the 10 Senate votes, but we have the issue, Border Security. 2020!"
Israel constructed the border fence on the Egyptian frontier beginning in 2010, amid a wave of mass illegal entries into the country by illegal immigrants from Eritrea, Sudan, and Somalia.
Following the completion of the fence in December 2013, and modifications to the fence in 2014, illegal entries from Egypt into Israel dropped by 99% in 2016, and fell to zero by 2017.