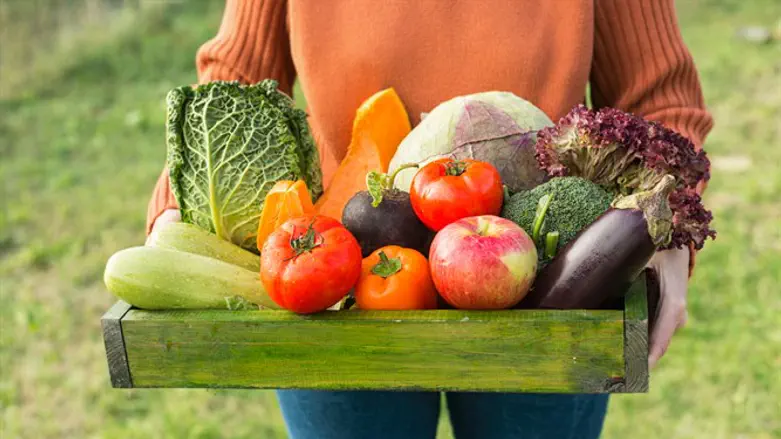 Vegetables (illustration)
iStock
The Palestinian Authority on Thursday announced a ban on the importation of all types of vegetables, fruits and poultry from Israel.
The decision comes "in response to the Israeli Minister of Agriculture's decision to ban the importation of Palestinian fruit and vegetables", it said.
The decision was described as "an important national decision on the road to Palestinian independence" and "a serious move to find alternative Arab and foreign markets through Jordan."
In an interview with the official PA news agency Wafa, the PA's "agriculture minister", Sufian Sultan, said that his ministry is working to support farmers and the Palestinian local product, at the expense of products from other sources, especially from Israel.
Sultan claimed that the "unilateral" Israeli decision to ban the imports of vegetables and fruit from the Palestinian Authority was made after the PA decided to regulate the sheep market and to ban imports of sheep imported by Israeli companies. The PA decision does not prohibit the import of sheep from Israel, he added.
Mahmoud al-Aloul, deputy leader of the Fatah movement which is headed by PA chairman Mahmoud Abbas, stressed the importance of forming an official and popular position regarding the boycott of fruits and vegetables from Israel in response to the Israeli decision.
This is not the first time that the PA has banned Israeli companies and imports. Two years ago, it decided to "punish" Israel by halting imports to the PA from five major Israeli food production companies.
The PA's "anti-economic crimes unit" in Ramallah later indicted two companies that marketed Israeli products.
In March of 2015, the PA declared an "economic war" against Israel and launched a campaign calling to boycott Israeli products.
A month earlier, a national Palestinian committee announced it would prohibit the sale of products by six major Israel companies in areas of Judea and Samaria controlled by the PA.