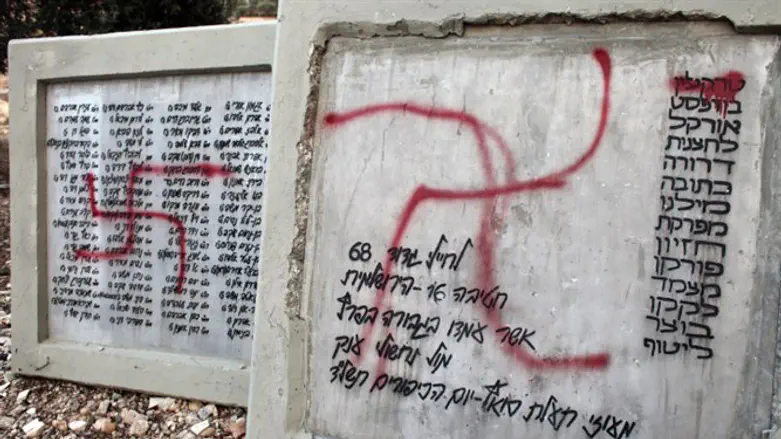 Swastika graffiti
Flash 90
Ahead of the new year, US human rights organization the Simon Wiesenthal Center published on Tuesday its list of the "top ten worst global anti-semitic incidents."
Topping the list was the Pittsburgh Synagogue Massacre. The Wiesenthal Center noted that perpetrator of the deadly shooting in which 11 worshipers were murdered, Robert Bowers, "was an avowed neo-Nazi," adding that "only FBI intervention thwarted another deadly attack on a Toledo-area synagogue in early December. This attack was planned by Damon Joseph, a fanatical convert to Islam and ISIS adherent. Joseph told FBI undercover agents he was inspired by the attack in Pittsburgh."
Second on the list was Nation of Islam leader Louis Farrakhan, for his October speech in Detroit during which he compared Jews to termites. "Throughout the 1930s, before the Holocaust, Nazi propaganda serially demonized Jews as vermin and rats, seeking to dehumanize German Jews in the eyes of their neighbors," the Wiesenthal Center noted.
Number 3 went to anti-Semitic incidents on US college campuses across the country, including anti-Semitic graffiti and flyers, swastikas, and vandalism. In addition, the report added, "Members of extremist groups, like Students for Justice in Palestine (SJP), created hostile environments for Jewish students by posting quotes on social media like, 'Let's stuff some Jews in the ovens' and 'every time I read about Hitler, I fall in love again.'"
At number 4 was UK Labour leader Jeremy Corbyn. "Allegations of anti-Semitism on the part of key members and officials of the UK's Labour Party officials have piled up in recent years, injecting the world's oldest hatred into the mainstream of society. Party leader Jeremy Corbyn stands directly responsible," the report said, pointing to an article published by leading British Jewish newspapers which called a Corbyn-led UK government "an existential threat" to Jews.
UNRWA was ranked number 5 for being "a de facto enabler of Hamas' terrorist fiefdom in Gaza" with its school curriculum that "promotes anti-Semitism, refuses to print the word Israel and is unwilling to teach about the Holocaust." The report added that "Hamas effectively controls the UNRWA teachers' union and teachers resort to social media to promote terrorism against Israelis and to 'stab Zionist dogs.'"
Number 6 went to travel lodge company Airbnb for its decision to delist houses owned by Jews in Judea and Samaria. "There is no indication that Airbnb, who claim to oppose BDS, is extending its interventionist diplomacy to Cyprus or the scores of other disputed territories around the world," Wiesenthal noted.
The number 7 spot was given to German Bank for Social Economy over its support for the pro-BDS group "Jewish Voice for a Just Peace in the Middle East," whose US-based sister group "Jewish Voice for Peace" welcomed convicted Arab terrorist Rasmea Odeh, who murdered 2 Hebrew University students in a 1969 Jerusalem bomb attack, at one of its conferences.
At number 8 was Episcopal Bishop Gayle Harris for fabrications about IDF soldiers. The report said Harris had claimed "she witnessed an Israeli soldier arrest a three-year-old Arab child on the Jerusalem Temple Mount and gun down a 15-year old Palestinian teen in the back," before backtracking when the lies were called out, saying that "she had only heard the stories from a third party (a Palestinian)."
Number 9 went to Swedish hospital the Karolinska Institute over its neurosurgery head's discrimination against 3 Jewish doctors. According to Wiesenthal, he prevented the doctors from helping their patients and hindered their research, and even posted "blatant anti-Semitism" on his Facebook page.
Closing the list was performer Roger Waters of the band Pink Floyd, whom the report called a "leading BDS cheerleader" and "an anti-Semite who wants to tell Jews what anti-Semitism is."