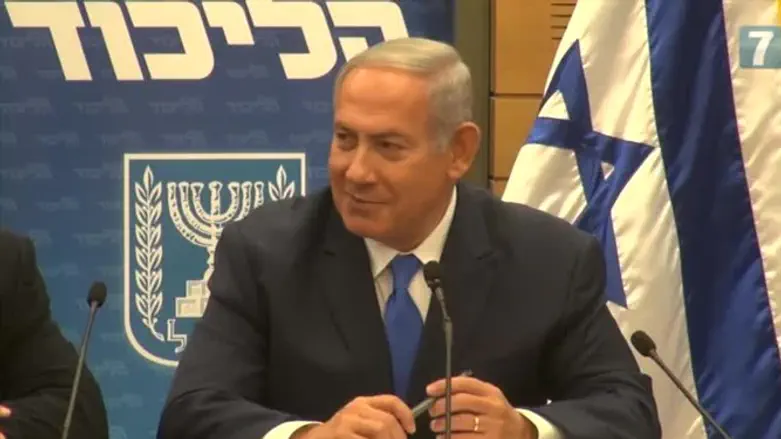 Netanyahu at Likud party meeting
Hezki Baruch
A new poll conducted following the decision by coalition leaders to dissolve the Knesset and go to new elections shows Prime Minister Binyamin Netanyahu not only leading at the outset of the election season, but gaining ground.
The survey, conducted by Panels for the Walla! outlet and published Tuesday afternoon shows the Likud gaining between one to two seats, depending on whether former IDF chief of staff Benny Gantz runs at the helm of a new party.
If Gantz does not run, the poll shows the Likud gaining 2 seats over its 2015 performance, rising from 30 to 32 seats, making it by far the largest faction in the Knesset.
In a distance second place, former Finance Minister Yair Lapid's Yesh Atid party would rise from 11 seats to 17 – 15 seats behind the Likud and 2 below the party's previous peak of 19, which it attained in 2013.
Netanyahu would also be well-positioned to form a new governing coalition, the poll showed, with his current coalition gaining a mandate, winning a cumulative 62 seats compared to the present 61 seats the government possesses. If former Defense Minister Avigdor Liberman's Yisrael Beytenu party were to join the government, the majority would expand to 68 seats.
Yisrael Beytenu sat in the present Netanyahu government from 2016 until last month, when it bolted in protest of a ceasefire agreement with the Hamas terror organization.
If new elections were held today, the poll finds, Yisrael Beytenu would match its 2015 performance with six seats – one seat more than it currently holds, due to the departure of MK Orly Levy in 2016.
On the left, the Zionist Union – a joint list including Labor and the Hatnuah faction – would plummet from 24 seats to just 11 if Benny Gantz does not run in 2019, while the far-left Meretz party would gain 3 seats, rising from 5 mandates to 8.
The predominantly Arab Joint List party would lose 2 mandates, falling from 13 seats to 11 if new elections were held today.
MK Orly Levy, who left Yisrael Beytenu in 2016 to protest the party's joining the Netanyahu government, would win six seats at the helm of a new party.
The Jewish Home party would gain four seats, rising from 8 to 12 mandates, while the centrist Kulanu faction of Finance Minister Moshe Kahlon would fall by 4 seats, from 10 to 6 mandates.
Among the haredi factions, the United Torah Judaism party would gain two seats, rising to eight, while Shas would fall by three, barely clearing the minimum electoral threshold with four seats.
The Walla! poll also included an alternate scenario in which Gantz runs at the head of a new party.
In such a scenario, Gantz would win 14 seats, making his party the second largest in the Knesset.
If Gantz runs, the Likud would win 31 seats, as opposed to 32, while Yesh Atid would fall to 12 seats, compared to 17 if Gantz does not run.
The Jewish Home would win 11 seats if Gantz takes part in the election, a loss of one seat compared to the results if Gantz did not run.
The Joint List would be unaffected by Gantz's candidacy, as would Shas and Orly Levy's new party.
Kulanu would win five seats if Gantz runs, compared to six if he does not, while Meretz would win just six seats, as opposed to eight.
Former Defense Minister Avigdor Liberman's Yisrael Beytenu party would win one less seat if Gantz runs, falling to five, while the United Torah Judaism faction would win seven seats.
The Zionist Union would win just nine seats when running against Gantz, compared to 11 if Gantz does not run.
A separate poll also released Tuesday found the Likud leading with 30 seats if Gantz runs, compared to 13 seats for a party led by the former IDF chief of staff.