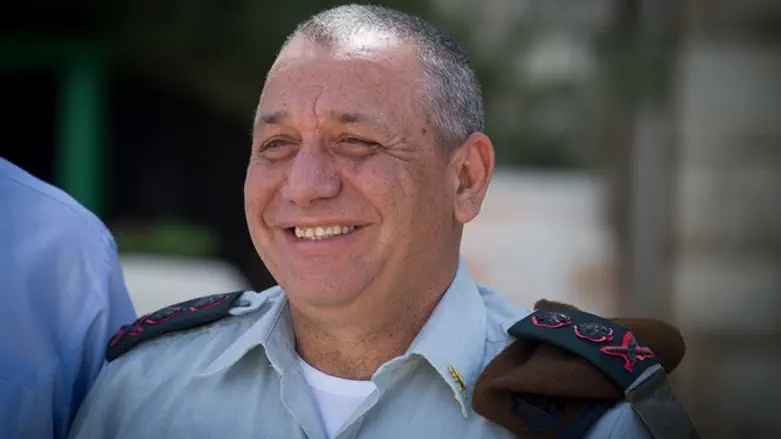 Eizenkot
Flash 90
IDF Chief of Staff Gadi Eizenkot today discussed President Trump's decision to withdraw American forces from Syrian soil.
In an Interdisciplinary Center in Herzliya conference speech on "Four Years of IDF Strategy", Eizenkot stated the pullout was a "significant event, but shouldn't be exaggerated."
"The IDF acted independently throughout the entire period. The Americans make the decision when the relationship between the armies is at its peak," Eizenkot added.
Eizenkot also referred to friction with Russia in Syria: "Russian presence at the end of 2015 created a new situation that required us to build a mechanism to prevent friction.
"In recent years, there's been an effort against Hezbollah, who worked to build a very broad capability with three principles - an attack plan on the Galilee, producing precision weapons with a steep trajectory, and an effort to build a second front against Israel from Syria," Eizenkot said.
In this context, Eizenkot explained IDF actions in Operation Northern Shield: "Hezbollah had the will to carry out an attack to occupy settlements. They positioned forces where fewer tunnels were built. It isn't hard to imagine what would have happened had there been a future security deterioration. The incident would have begun with hundreds of Hezbollah fighters infiltrating into Israel and carrying out an attack.
"This scheme was identified by us four years ago and we built a plan to thwart it without going to war and to my delight, most of the tunnels entering Israel have been located so far, and I believe in the near future we'll be able to thwart this plan."
Regarding the Judea and Samaria terror wave Eizenkot said, "The sense of security in the Palestinian arena is a subject that's usually on the public and media agenda. The IDF is working to ensure a sense of security and to enable the political echelon to accept any decision from a position of strength. We thwart the terrorists before they hit. We arrest 3,000 terrorists every year and save hundreds of lives.
"The thought after terror attacks that if only we'd separate roads and use more force, it would end - this is a mistaken approach," Eizenkot claimed.